Valentine's Day is just around the corner and if you are a hopeless romantic like we really all are than we care to admit, then this day is as big of a deal as Thanksgiving Christmas and the Fourth of July. The one day of the year flower vendors have a field day, as well as Chocolatiers, Hallmark, stuffed animal manufacturers and really anything somewhat related to love. So it's also really no surprise if your hairstylist or make-up artist has already been booked for this special day. If you are in search for the Best 10 Date Night Black Hair Styles for Valentine's Day, don't despair. You have come to the right place.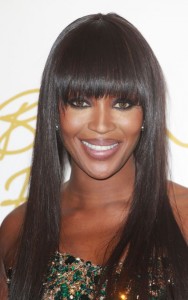 1. Silky Straight Hair.
Think Naomi Campbell. There is nothing more sophisticated than this simple put together look paired with a super sexy outfit that will surely knock socks off your date's feet. This rocks too with an edgy bob.
2. Soft Loose Curls
Because you just want to set the mood for romance, perfect the day with loose curls just cascading down your shoulders. This will surely make you feel like a princess.
3. The Low Bun
Pull your hair back into a low bun. Not too tight and not so sleek either. A somewhat structured messy low updo should do it. This will show off and elongate your neck as well as your décolletage.
4. Braids
This can be any kind of braids but we love a simple side braid or fishtail that just adds instant drama. The best thing about this look is it takes less than five minutes to do. Just gather all your hair over one shoulder, separate your hair into three sections then start braiding.
5. Beachy Waves
We are still into the messy wavy look which to an extent is a relief because, it doesn't take much to do. Blow dry your hair then section it into sections. They don't have to be symmetrical. Wrap each section around a curling iron and tousle your hair with your fingers.
6. Just Accessorize
If you love your hair just the way it is and don't really have the time to do anything special with your hair, you absolutely do not have to. You can wear the way you would but to add a little something on this special day, wear a clip or a headband or a wrap.
7. Hair Extensions
If you want instantly long hair and simply do not have the time to wait for your hair to grow out, the answer is extensions. These can be bought just about anywhere in all styles, lengths and color. For a temporary fix, you can choose clip in extensions which is easy to use. As the name implies, all you need to do is clip it in where you want it and unclip when you want to take it off. Super simple.
8. Get A New Look
If you want to try a really new hairstyle all together go for it. Now is the perfect time as we are soon entering the Spring of 2015 so check out the season's trends and stay ahead of the curve.
9. A Sleek Ponytail
Part your hair on one side and pull into a sleek ponytail. Not only is this very chic but it also makes a very strong statement of the kind of woman you are.
10. The Pixie
Wear your short hair in a stylish pixie cut just like Halle Berry and Jada Pinkett Smith. These women need not do a lot to get noticed. The hair says it all for them.