Were you born with frizzy, brittle hair and you are dreaming of sumptuous large curls or perfectly straight hair? Hair weaves are not anymore only the privilege of celebrities or very rich people; anyone can afford to change their appearance completely and enjoy a low maintenance hairstyle while looking absolutely stunning!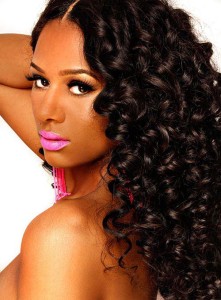 Sew-in weaves are the perfect choice if you want to vary your hairstyle repertoire or you need a little help until your hair grows back to the desired length. They are also a good idea while recovering after damage caused by hair dye or relaxing.
Usually, radical changes don't come without risks for your hair's health, but you should not have problems with sew-in weaves if they are of good quality and you check the tips we have gathered to help you protect your natural hair.
What are sew-in weaves?
Sew-in weaves were apparently invented in Africa, where women started using them many years ago in order to enjoy straight glossy hair. These extensions are sewn into your hair rather than being glued onto your scalp or locks. Sew-in weaves can completely cover natural hair and leave none of it exposed or they can blend with it, in which case your natural hair should have a similar color and texture. Sounds great so far, but let's see exactly why this type of extension can be a good idea for you.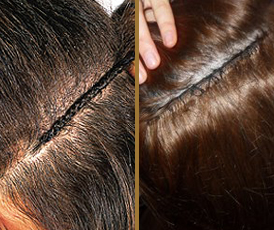 Sew-in weaves advantages
When you are not satisfied with the aspect of your natural hair or you just want to enhance its volume and shape, sew-in weaves are a solution you should consider for multiple reasons:
• They are easy to care for
No matter what kind of weaves you opt for, synthetic (which comes pre-styled) or natural, these extensions are low maintenance and don't require you to spend hours styling your hair. Professionally applied sew-in weaves require almost no styling efforts from your side, as they create the most advantageous hairstyle for you.
• Sew-in weaves allow you to adopt a new look immediately
Sew-in weaves can add length to short hair and volume to thin strands. You can opt for any hair texture or color you wish and you will be enjoying your new hairdo for around two months. You don't have to wait for years to grow your hair or try ineffective treatments that won't make your hair change its texture.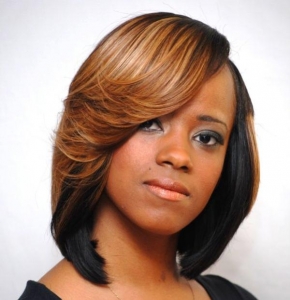 • It doesn't affect your natural hair
Unlike other extension techniques, sew-in weaves don't affect your natural hair on condition that you care for it. If you remove your braids carefully, your natural hair will be in good shape. When you use glued-in weaves, removal damages your hair as you pull the weaves away.
• They save time and effort
If you want to maintain a look that would normally be high maintenance, using a curling iron or a hair straightener and tons of styling products every day is not a solution. By applying sew-in weaves to your natural hair, you'll get rid of the daily time-consuming styling session and you'll be ready to go in just a couple of minutes.
• Sew-in weaves are particularly suitable for black hair
These extensions protect black hair from wear and tear and they are the favorite of many women who like straight silky braids instead of wearing natural curly hair.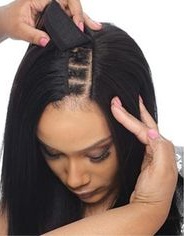 Are sew-in weaves really harmless for your hair?
Sew-in weaves are promoted as one of the healthiest alternatives to traditional extensions, but yet there are many negative reviews and testimonials of women who complain about weaves having affected their natural hair. Some women claim their hair had thinner ends after the weaves were removed and that hair strands tended to break at the middle. These inconveniences do happen if you completely forget about your natural hair and you never apply a protective treatment to it.
When choosing to apply sew-in weaves to your hair, consider the following aspects:
• Weaves add weight to your natural hair and can cause stress that wouldn't have occurred without the extensions;
• Before changing your old weaves with new ones, it is recommended to let your natural hair breath and recover for a few weeks;
• It is important to choose the right stylist that will apply weaves professionally and not give a strange shape to hair or leave bald spots. Ask for references and don't be too sparing with your money if you want to achieve the best results.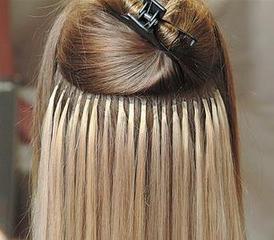 How to care for your sew-in weaves and protect your natural hair
As you have probably already guessed, sew-in weaves, like many other hair makeovers, require a bit of extra attention from your side. The following tips require little commitment, and the good results they provide are totally worth spending 30 extra minutes every week to apply a treatment and give your natural hair that TLC it needs:
• Use protein treatments every two weeks. Ask for your stylist's advice and he or she should be able to recommend a product that is appropriate for you;
• Don't forget about hair conditioning! This step should never be skipped, even if you don't have sew-in weaves. Make sure you apply the conditioner to your natural hair, not only to extensions. Choose a conditioner with a thinner consistency, which will be able to penetrate the bulk of hair on your scalp;
• Apply moisturizing product to your hair, preferably spray formulas, which are able to reach your natural hair easier;
• Detangle your braids and remove shed hair before washing. If you skip this step, your will be dealing with knots after shampooing;
• Wait for 1-2 weeks before reinstalling another sew-in, and you can leave your natural hair breath in the meantime;
• Choose extensions which are similar to your natural hair, otherwise you will have to work hard to blend your hair into your extensions;
• Make sure the extensions are not sewn too tightly, otherwise tension will damage you natural hair and affect hair follicles;
• Regularly pull out in a gently manner shed hair. We lose about 100 strands a day, and when you have sew-in weaves, they cause knots.
The answer to the question "Are sew-in weaves really harmless for your hair" depends on how you care for both your weaves and natural hair. When you wear this type of extensions, you are more prone to knots and damage if you don't take care of your hair properly.