Black women today pride in Neurospeculative AfroFeminism (NSAF) which is a virtual reality program made only for them. It gets held at the Sundance Festival, in the United States of America, where it premiers. It is a section of the New Frontiers. You may be wondering, why black women only? According to Ashley Baccus-Clark, the Huffington Post creator, and a multidisciplinary artist, it's about establishing a safe space.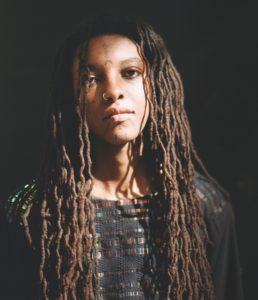 Having joined Hyphen-Labs, which is a group of women who utilize Neural Science technology and art to develop work that protects women of color, Baccus-Clark commitment gets emphasized. On realizing that no sunscreen was meant to cater for the black women's skin tone, Baccus-Clark's journey on creating the VR world began. Since the regular brands from the stores left a purple sheen layer on the skin, she decided to come up with her brand of sunscreen.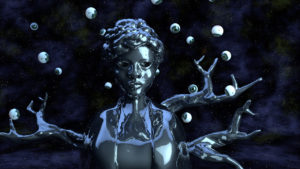 It was the first among other accessories and speculative beauty products meant for women of color. All these products constitute the physical component and the narrative of the virtual reality which is Neurospeculative AfroFeminism.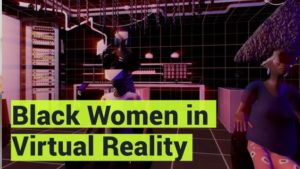 Carmen Aguilar y Wedge, an engineer from Mexico with Cuban roots, Ece Tankal, and Nitzan Bartov, who are both designers and architects from Turkey and Israel respectively, designed earrings which recorded like devices. The earrings are prototype where the dichroic reflective surface allows the person who's wearing them to see and not get seen. The headgear reflects threatening gazes to the person watching. The scarf has got patterns tailored to overwhelm the facial recognition software.
Lastly, we've got the Octavia which is a virtual reality component that transports the user to the salon. Every user gets to see herself as a black woman before receiving the high-definition transcranial direct stimulation (HD-tDCS), which is a brain stimulation that's non-invasive and alleviates depression and anxiety.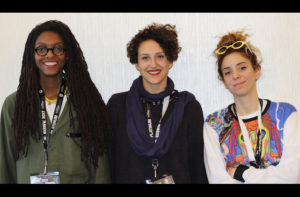 The four women have managed to bring culture, Young Thug, and black womanist literature to the project. Using the eye as a logo indicates the creator's motive. It is also an indication of you seeing or watching what's happening. According to Ashley, she started going to salons on reaching ten years. She has come to learn that salons are a site of creative endeavors, political activism, and community building. She claims that they aimed to mirror this as they incorporate science and technology in the space left out.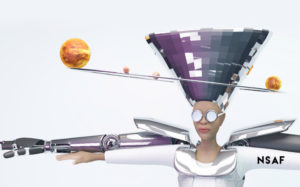 The birth of NSAF was as a result of two African-American men, Alton Sterling and Philando Castile, who were killed by police during a quick succession last summer. The aftermath was profound and unsettling for the black community. According to Baccus-Clark, they had to implement self-care rituals as they didn't know how to deal with the situation. That is when they created a project that got people to think of the world around us. After six months, NeuroSpeculative AfroFeminism was debuted at the famous 2017 Sundance Film Festival. It later traveled to the south, southwest, and is now showing at Tribeca.