Since time immemorial, or a couple of decades at least, since mass media learned to shine a demanding spotlight on the next hot thing, and broadcast it out for the avid consumption of us all,  people of some means have been looking to the fashion and beauty pageant runways of the globe like the Miss USA pageant, and the four key fashion capitals of the world  Paris, Milan, London and New York for inspiration.
The Beauty Pageant Runway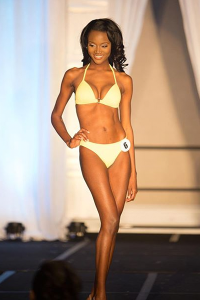 As a celebration on this momentous occasion of the selection of Deshauna Barber as Miss USA,  we venture to suggest the trends that she and other great beauties of this world present us.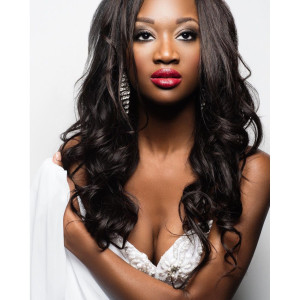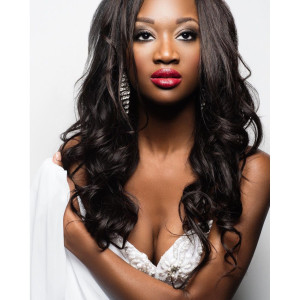 And in case you've not heard by now, the 26 year old Miss Deshauna Barber is not only a great beauty with fabulous fashion sensibilities, she is also a Quartermaster Officer in the United States Army.  Her answer to the question presented to her by a judge in the final round is what they say clinched the title for her.   She was asked about the recent decision of the Army to allow woman to serve in all roles in the Army, even the combat ones.  To paraphrase, she responded that it was a good thing and that a woman can be just as strong as a man.  She also went on to say that she exemplifies this by being a strong commander of her Army unit.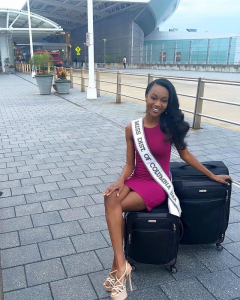 One of the reasons Miss Deshauna Barber is a Quartermaster Officer in the US Army is she is determined not to be tied down by traditional gender roles.  She is also the daughter of what must be a very proud retired army master sergeant. She is currently a Logistics commander for the 988th Quartermaster Detachment unit at Fort Meade, Maryland.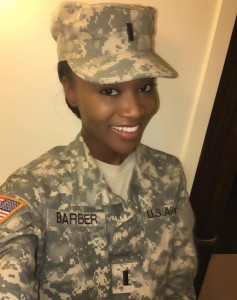 Here is the long gown that Quarter Master Deshauna Barber wore for her participation in the Miss USA Pageant.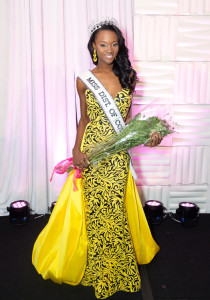 The Fashion Runway
The New York Fashion Week was actually the first to be established in 1943 (back then it was known as Press Week), and was mainly created to showcase the talents of American fashion designers over those of French fashion during World War II as people were not able to fly to Paris to visit the fashion shows there. In that time, fashion magazines such as Vogue would only feature French fashion designers, and so the first ever NY Fashion week was organized and this event was made highly successful by its founder and organizer, Eleanor Lambert. Lambert was then the press director of the New York Dress Institute, which is the American fashion industry's first promotional organization. NY Fashion Week was followed by the Milan Fashion Week in 1958, one of the most prestigious fashion shows in the world, counting in design houses such as Prada, Roberto Cavalli and Dolce & Gabbana in its rosters.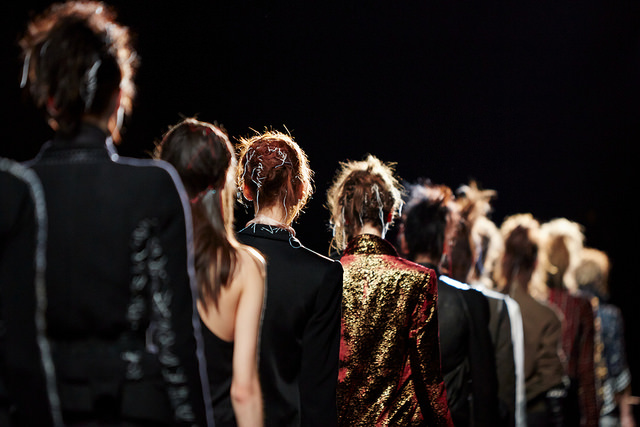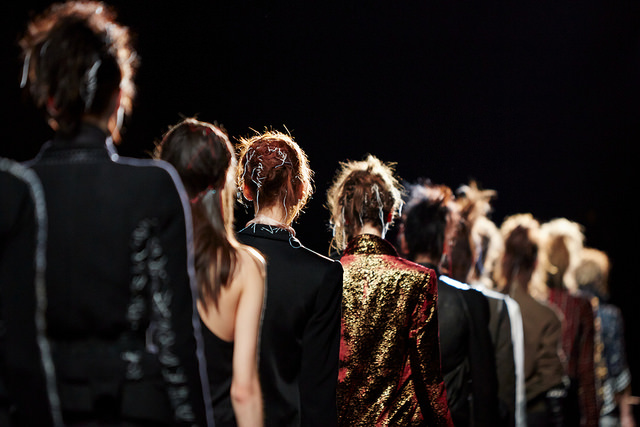 A glimpse of Paris Fashion Week under way
However, it is undeniable that in terms of billing, the Paris Fashion Week still takes the number one spot when it comes to all things fashion and it is filled with shows from all the major fashion houses such as Chanel, Balenciaga, Guy Laroche, Schiaparelli, Versace, Valentino, Ellie Saab, Christian Dior, Fendi, Jean Paul Gaultier, Isabel Marant and so many more! Each fashion event is usually scheduled bi-annually to coincide with the summer/spring and fall winter seasons. Each season starts off with New York, followed by shows in London, Milan, before finally capping off and officially ending the season at Paris.
So you might ask – why is Fashion Week in any of these cities so bloody important? Well, it is basically a way for the top fashion design minds of the world to create trendsetting and artistic expressions of what people dream of wearing, worn by fashion models that we all secretly want to be – and all this will then be picked up by store buyers to be translated into something that can actually be worn by people. It may be a piece of cloth, supported by a texture, a color, pattern or shape that will eventually find its way into an ordinary person's life. And that is the scope and breadth of fashion!
Trends from fashion includes setting up standards for not just clothing but the overall look as well, meaning make-up, hair, shoes, bags, jewelry and such other accessories that can be contribute to a fashion trend. In this way, runway looks can easily translate to how you suddenly wear your ponytail in a different way. How did that happen? It could be that some international designer created this total look that included his/her models wearing their ponytails slicked back tight and high up the back. When it's seen in a runway show, it's image is captured by a photographer, and it's picked up by a store buyer, a fashion editor, a celebrity stylist, and the next thing you know, Beyonce is wearing her hair that way and you want in! Again, it's the scope and breadth and influence of fashion.
So what in particular is important in creating a runway look? It can be a little or more of anything or nothing at all. Meaning, in one instance, runway models can be wearing heavy Gothic styled make-up or nude, non-existent fresh faces to mimic the next season. They can all be wearing long, golden tresses or can all be shaved bald, just for a show. They can have on any imaginable piece of accessory, any color of hair, any shade of lipstick, eye shadow, blush and nail polish. Add the highlight of the glitz and glamour of each show, how the attire goes together with the hair, make-up, accessories, the runway lights and ambience of the entire thing and it can be sold off into a possible fashion trend or a sellable outfit in some upscale department store (which can then be replicated by cheaper alternatives), and the far-reaching arm of fashion can just go on and on.
The fall season will be officially arriving in September, and before that happens, let's take a step back and see what trends popped up last February at the Fall/Winter 2015/2016 Fashion Weeks and which of these trends can be replicated to match your every day style, from clothes to hairstyles.
IS IT THAT 70'S SHOW?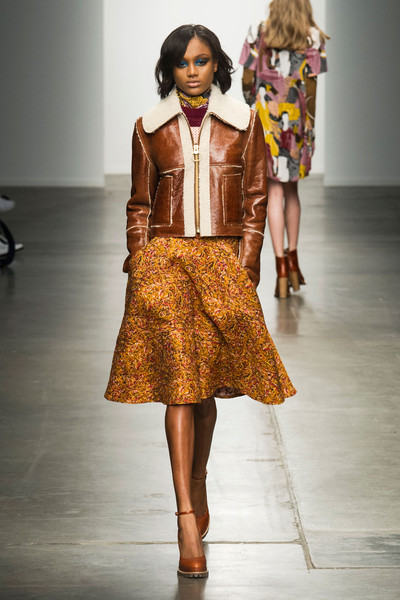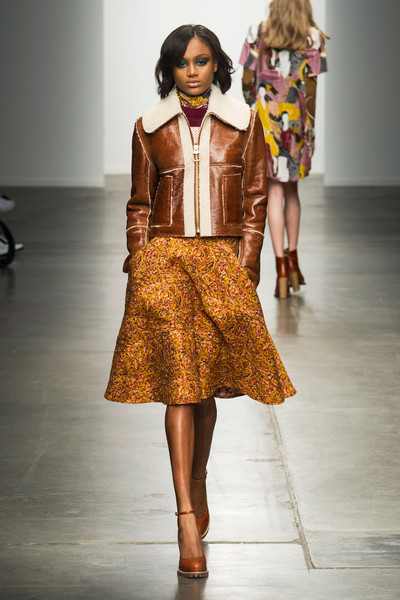 Karen Walker RTW Fall/Winter 2015 New York Runway Show
No, we aren't talking about TV and Ashton Kutcher but a prominent trend seen from several designers and brands such as Rebecca Taylor, Karen Walker, Roberto Cavalli, Tracy Reese and Emilio Pucci, to name just a few. The trend is basically a throwback testament to fashion elements from the 70's era. The retro silhouettes, cuts and details are very strong, teamed up with all that 70's hair – hair during this decade were long, flowing, natural and untamed; center-parted to frame the face and get a vibe of wild child vulnerability mixed in with tones of sexy vixen. Rawr! To get this throwback hairstyle that's still very much in style these days, you'll need to make sure you're invested in time and effort on a nourishing hair care regimen as well as a powerful hair dryer that should be worth the money – something that has enough power to give you sleek strands or a halo of hallowed hair for lift and volume.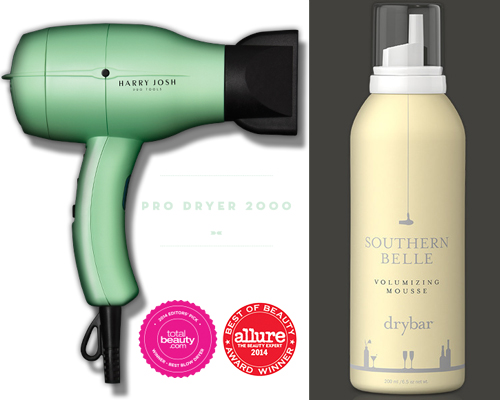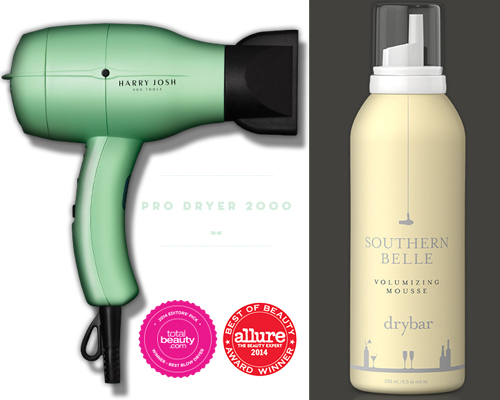 Left: Harry Josh Pro Tools Pro Dryer 2000 | Right: DryBar Southern Belle Volumizing Mousse
Try out the Harry Josh Pro Tools Pro Dryer 2000; part your hair at the center and blow it out with a round brush while curling it away from your face to get that iconic Farrah Fawcett 70s hair. For added volume at the roots (essential for this look), combine the blow dry with a volumizing product like DryBar Southern Belle Volumizing Mousse.
COLOR ME KHAKI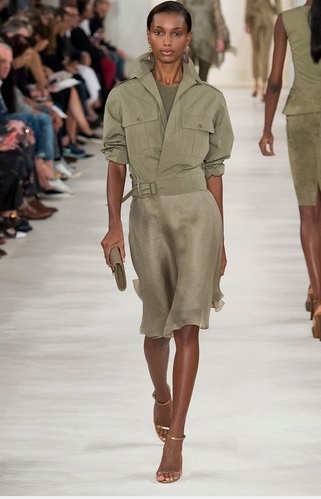 From the Ralph Lauren Runway
Another throwback-making-a-comeback moment is the sight of khaki in several runway shows. It's been a fashion classic since it first hit the runways 40 years back and a lot of fashion designers have cashed in on the trend during Fashion Week. Big fashion houses like Chanel, Marc Jacobs, Ralph Lauren, Gucci, Michael Kors and Sonia Rykiel have used khaki in various attires, going from sexy to militaristic to African Safari travel outfit. But wearing khaki can sometimes be challenging. In terms of skin tone, khaki can suit you if you have a warm skin tone. It's a color that can be teamed up usually with neutral colors although there are some styles appearing wherein khaki was used to match with darker colors.
As a street style beyond the runway, khaki can never get old – there are so many ways to wear it! And each way has a corresponding hairstyle. You can go casual with some fitted khaki pants, white Chuck Taylors and your hair slicked back on a high and sleek ponytail, or go a little bit more chic and feminine with a light top and blazer, and rolled up or relaxed cropped khakis and a pair of fab heels.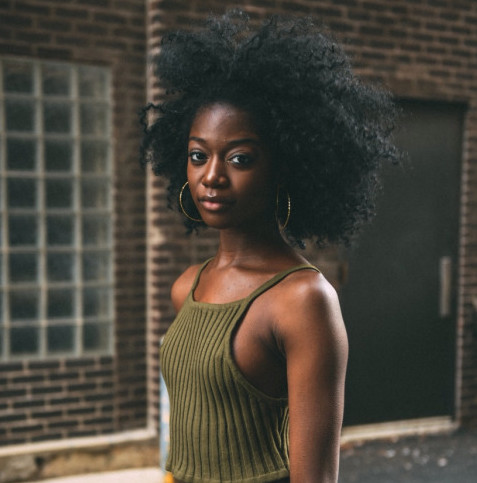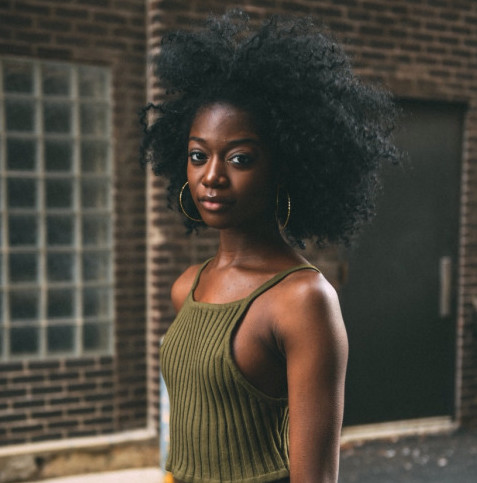 For something that would go well with a more natural and curly hairstyle, try on something a bit more feminine such as a khaki dress matched with low-cut brown suede boots. The natural colors that go well with khaki are brown and white but you can play it up with accessories with touches of color through smart jacket or a scarf here and there. To ensure your naturally curly hair is as fabulous as your khaki ensemble, give your curls some boost and definition with a curl creme such as Miss Jessie's Curly Meringue.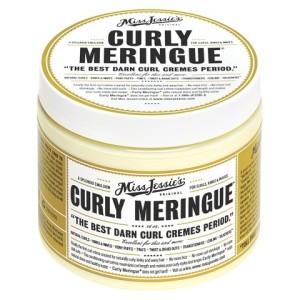 Miss Jessie's Curly Meringue
Whatever the wear of khaki and your hair, you can be sure that this trend is here to stay as the fashion gods have deemed it a trend to go on through the ages.
JUMP INTO THE JUMPSUIT BANDWAGON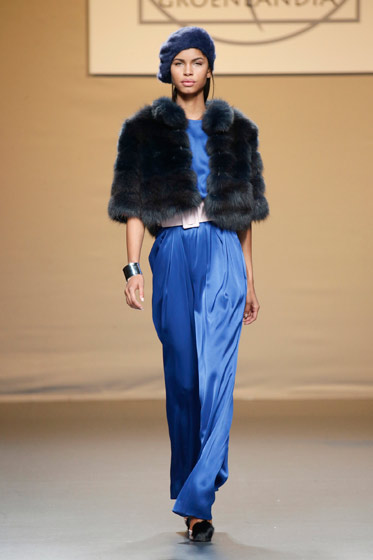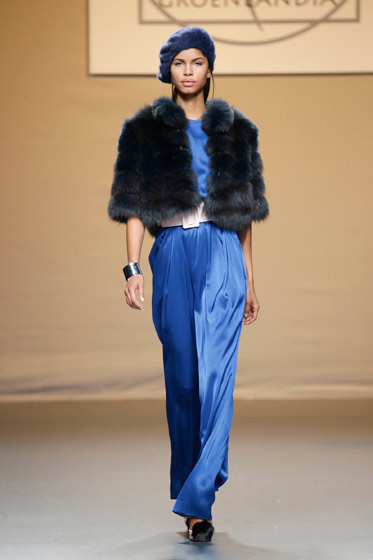 Jesus Lorenzo Fall 2015 Runway Show
The utilitarian look isn't just confined to the use of khaki. Dior, Ralph Lauren and Pucci were inspired with an over-all industrial type look and came out with jumpsuits that were made edgy and fashionable with the perfect high heeled shoes, belts and scarves, oversized buttons and colorful statement jewelry. There were also the more sophisticated silhouettes and graphic patterns from Balmain's Spring/Summer 2015 collection. The models' hair were also set in slicked-back styles and they had on minimal make-up, making the face appear angular and in parallel to the lines and designs of the garments worn.
Now it takes a lot of personal pizzazz to be able to pull off wearing a jumpsuit (think Solange Knowles in a wedding-worthy white jumpsuit riding a bike to the ceremony) and while catwalk is certainly not an every day occurrence, wearing a jumpsuit, whether sophisticated or grungy, can certainly make you strut as if on one. For evening wear, you try out a hybrid where the jumpsuit pants are long, wide and flowing, looking like a long skirt or maxi dress. There are also flirty and fashionable cuts that are set in solid black or white colors, that can be paired up with awesome pumps and statement jewelry. Try out the V-Notched Strapless Jumpsuit at forever21.com. You can also totally go the other way and grab a pair of utilitarian jumpsuits or something more casual like the Drawstring Cami Jumpsuit at forever21 that can be used for lounging or paired up with sneakers. To complete the look, try styling it with hair that is set in medium waves and soft curls and you'll definitely complete the bombshell in a jumpsuit look.
CHANNELING ROYALTY – HAIR ACCESSORIES FIT FOR A QUEEN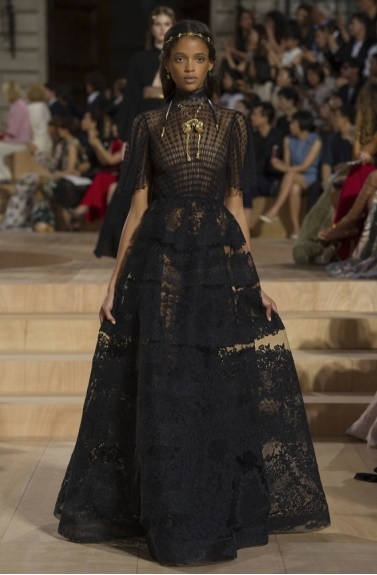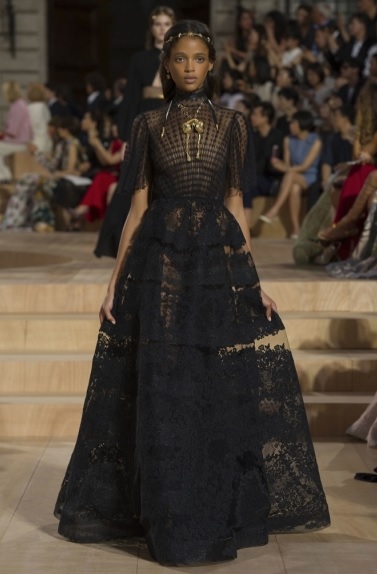 From the Valentino Fall 2015 Haute Couture Runway Show
As enchanting and otherworldly the gowns, outfits, silhouettes and accessories the fashion models showcased on the runway, these looks are all tied together to portray royal poise and glamour, whether in the ethereal fairy couture presented by Donatella Versace for Atelier Versace, the golden and sheer collection by Elie Saab, and this romantic and Roman goddess-like cuts and silhouettes shown by creative duo Maria Grazia Chiuri and Pierpaolo Piccioli for Valentino's fall haute couture collection.
But what was the defining link among all collections? The wreath-like tiaras and crowns that adorned the head of each and every models in all those shows! Of course, wearing something like this in real life takes a momentous occasion, like a wedding or a costume event. But this trend is also for those avant-garde fashionistas that aren't afraid to wear what they want, when they want it! If you can see yourself pulling off this look, try browsing through the numerous designs of hair adornments out there, or start with Twigs and Honey. Or try this for that Roman goddess look: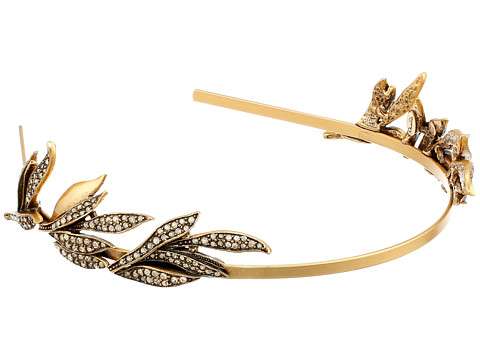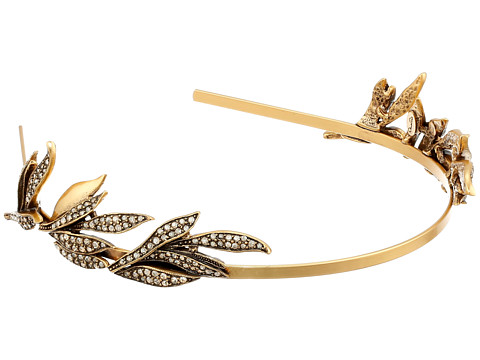 Oscar de la Renta Pave Spike Tiara
However, considering that not all of us are avant-garde fashionistas, you can also explore less formal types of hair adornments like braided head bands, which is a trend I'd like to see pick up! For something that would resemble these tiara runway looks, you can use synthetic hair or braid a small portion of your own hair and bring it across your forehead to achieve the look. It sort of channels that retro vibe slash ethereal looks we see going on during Fashion Week.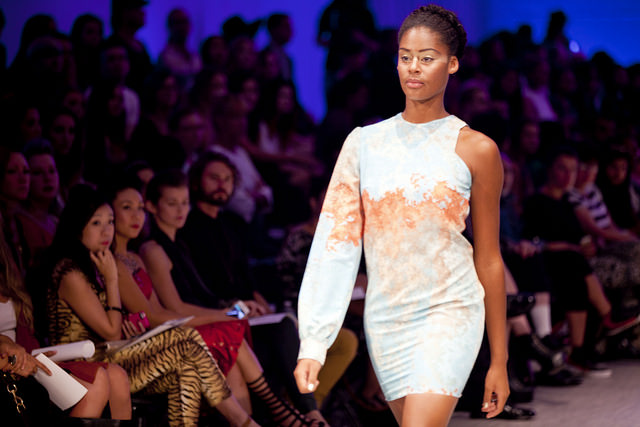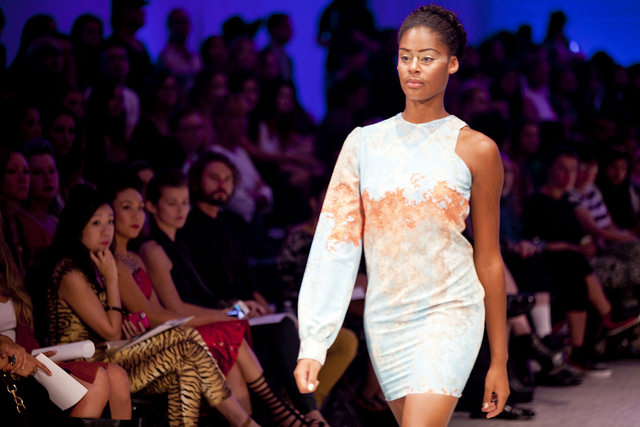 ALL MANNER OF BUNS, BRAIDS AND UPDOs
Some hairstyles just never go out of style and anything swept up in an updo certainly complements any clothing design and silhouette. Whether classically sleek or stylishly messy, as seen on models for Christian Dior, Oscar de la Renta, Jason Wu, Wes Gordon, Derek Lam and so many more, putting your hair up and tying it out of the way just brings out and frames the natural beauty of a woman's face. And it never gets boring!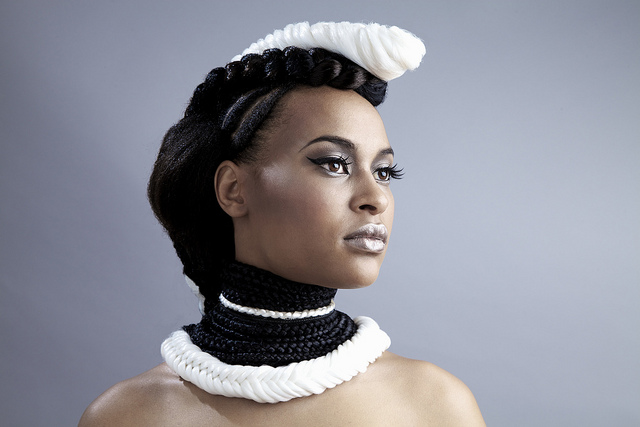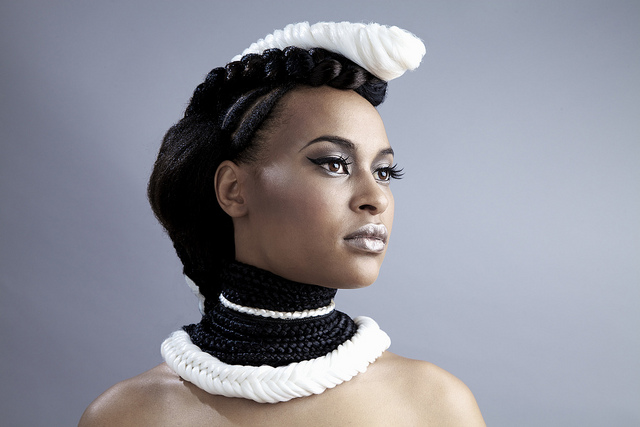 You can also braid it, a trend seen with several designers on the runway like Michael Kors, Donna Karan, Jean Paul Gaultier, Suno and Baja East. Hair stylists during Fashion Week have also been seen tying up models' hairs into the bun or a sexy low knot, as seen on Kendall Jenner when she was modeling for Dianne Von Furstenberg. As related by Orlando Pita, the hair stylist who prepped the hair during the show, the hair peg was to make it look like the model was a "seductress at night". And it certainly delivered!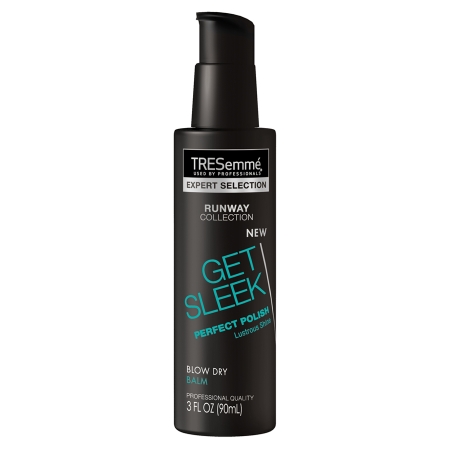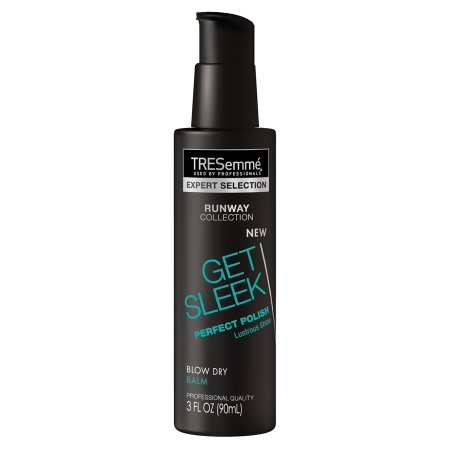 TRESemmé Get Sleek Perfect Polish Blow Dry Balm
If you are going for more of the classically sleek up do that is the right amount of imperfect to make it look natural, try putting on some TRESemmé Get Sleek Perfect Polish Blow Dry Balm. Pull it up in a knot, pin it into place and let some strand and pieces hang out by themselves for that perfectly natural sleek up do.  In one instance, the use of unique hair accessories sometimes made the show perfect, like in the case of Derek Lam, models had their hair bound in simple pony tails that were clasped together with a specially created leather hair holder reminiscent of the time in when young girls would twist a pencil or chopstick to hold their hair in a bun. As mentioned, other up do hairstyles seen on the catwalk were all manners of braids. Michael Kors featured windblown and messy braids, where a lot of dry shampoo like Schwarzkopf Osis+ Dust it Mattifying Powder was used to create texture for the braids to appear perfectly messy.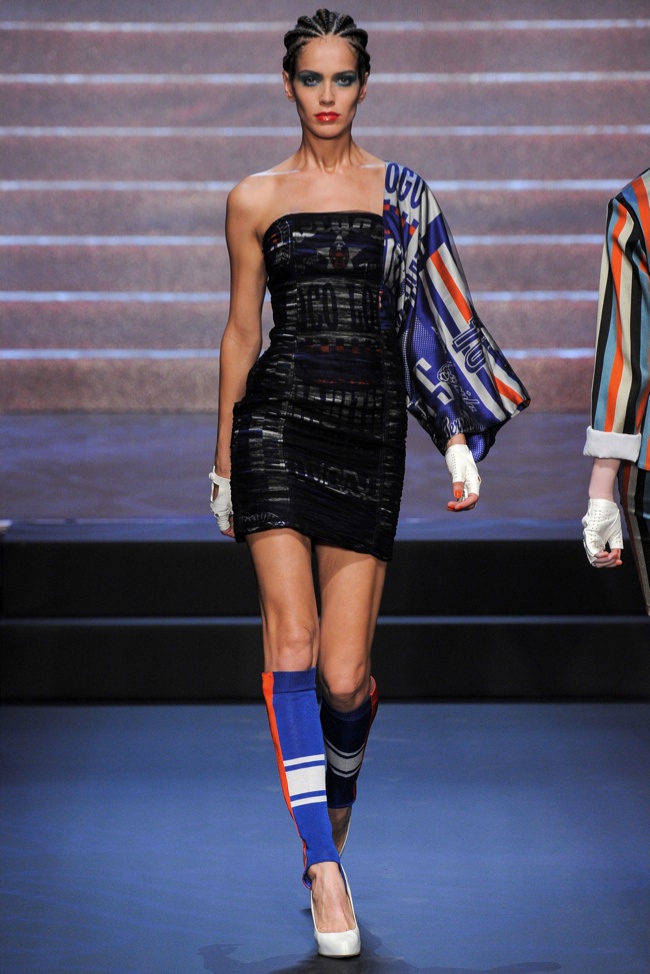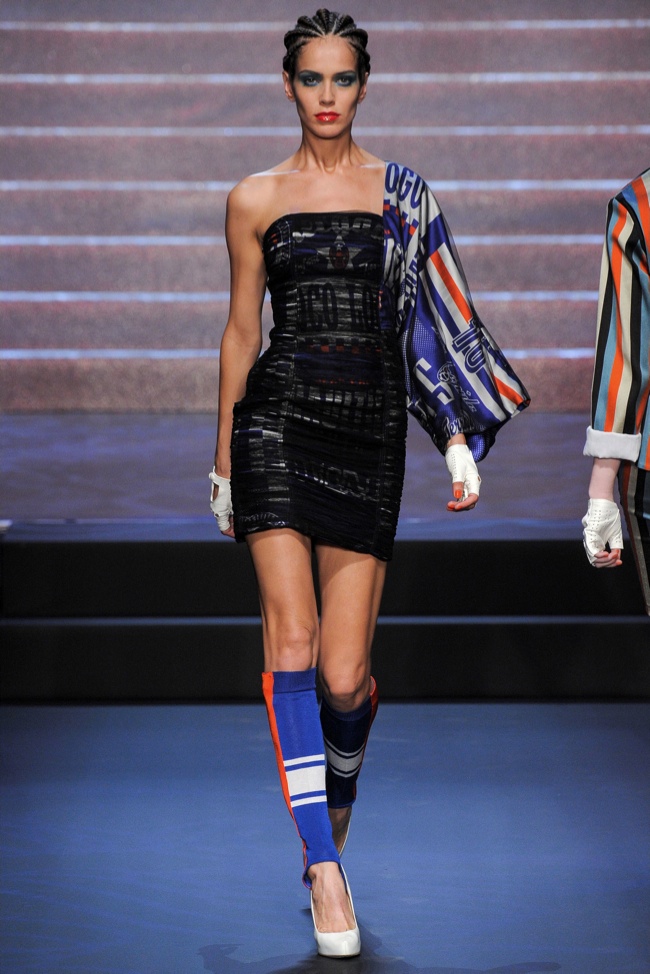 Haute couture matched with braids and cornrows seen in Jean Paul Gaultier's Runway Show
Overall, this season's styles and fashions were gorgeous, creative, ethereal, and while some were outrageous, for the most part, the styles shown were utterly timeless and could be translated to fashion that is wearable for the every day. The make up was minimal as the fresh faces reflected mostly the spring/summer season and the focus was more on the clothes, the colors and as well as all that beautifully styled hair. Don't get us wrong though, a lot of those hairstyles look like they can also be worn for the every day and that's the best part – being able to include the best hairstyle to suit each fashion is something that one does not need to replicate. Hair is part of fashion and pairing up the right style for each outfit truly deserves a runway feeling on its own.