The Hairstyles of Bridgerton
There's a lot to love about Bridgerton. From lavish, grand costumes, killer cast, exciting plot to intricate, gorgeous hairstyles, Bridgerton is a binge-worthy series. While the show's steamy sex scenes generated a lot of buzz, the artistic and elegant hair-styling drew quite a bit of attention as well. Think luscious sweeps of gleaming curls, carefully constructed elaborate wigs, and eyebrow-grazing tendrils. 
Set in the 19th century British Regency era, the fashion of the day was heavily influenced by ancient Greeks aesthetics. The hairstyles featured short fringes, easy-to-style chignons, and face-framing curls adorned with tiaras, flowers, and ribbons. Bridgerton's hair designer, Marc Pilcher, does an excellent job bringing these magnificent hairstyles to life and re-imagining them for the 21st century. 
Let's look at some of the best ones.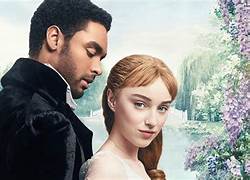 Daphne Bridgerton 
Based on Catherine Hepburn's famous regency drama "War and Peace" of the 1950s, Daphne's hairstyle is simple, youthful, and elegant. Daphne wears her hair curled in the latest fashions, with curled tendrils framing her face. 
Her hairstyle, which started with curls and a small, straight bang, evolves as the show progresses to include the signature curl tendrils. This is meant to soften her look.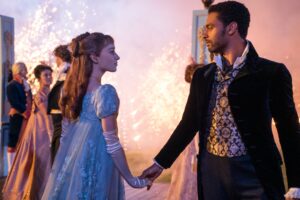 Her up-do, which bears her décolleté area (thought the most elegant part of a woman's body at the time), debuts Daphne as a viable contender for marriage. As a debutante, Daphne's hair is meant to represent her viability to marriage prospects. Baring the neck and exposing the lower neckline was considered the most tasteful way to show skin during the Regency era. It also allowed women to display the family's wealth by accentuating the jewels on her neck. 
At home, Daphne wore a simple half-up half-down hairstyle that keeps her looking youthful while signaling her adulthood. It was also common for a lady to be modest at home, so the half-up hairstyle is appropriate. 
Cressida Cowper
Cressida's hairstyle featured convoluted styling and accessories that make her look intimidating and severe. This not only shows she's determined to snag a worthy suitor but is also a display of wealth. That's because ladies of high society in Regency times had lady maids that helped with hairdressing, and it's clear Cressida's elaborate hairstyles required a lot of help.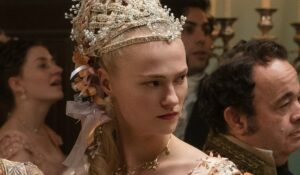 The Cowpers are the wealthiest family on the show, and this financial privilege is meant to come through Cressida's embellished and sophisticated hairstyle. If you look closely, you'll see bows and flowers made of hairpieces, horns, and basket- weaves.  
One of Cressida's hairstyles that stood out was her braided crown. The braids were wired, and the pearls were sewed along every strand to amplify the crown look. The look was meant to draw the prince's attention so he would realize that Cressida should be his princess. 
Penelope Featherington
Penelope's hairstyle is more a reflection of her mother. She's under her mother's thumb, Lady Featherington, whose style has a late 1950s vibe. Her old-fashioned look reflects her mother's tastes since Penelope's character is a romantic who wants independence and education. Nevertheless, Penelope's hairstyle is all curls and pretty flowers, making her look girly and young.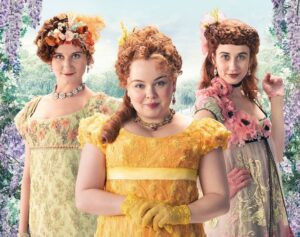 Eloise Bridgerton
Eloise is yet to make her debut to society and is, therefore, not soliciting callers nor looking for marriage. Unlike her older sister, Daphne, she wants more from life than to become a wife and a mother. She's a feminist and a tomboy and has no patience to be girly. She's curious and intelligent and would instead focus on her studies.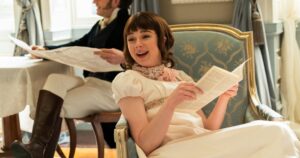 As such, her hair is ever so slightly out of place and a bit messy. Her rejection of 19th-century traditions for women is shown through her modern shaggy hairstyle that she wears down with fringe bangs and accessorizes with ribbon headbands. While the hairstyle won't look too out of place at the time, it would stick out among all of the prim-and-proper hairstyles and women that surround her. Eloise's style is more of an act of rebellion and a glimpse into 2021 that the Regency era needed.
Queen Charlotte
Every time Queen Charlotte graced us with her presence on screen, she oozed regality. Apart from her intimidating stature, the Queen's hair demanded all the attention. Coming from the pre-Regency era, where women wore intricate hairstyles, Queen Charlotte wears bold, opulent wigs ranging in length, texture, and even color.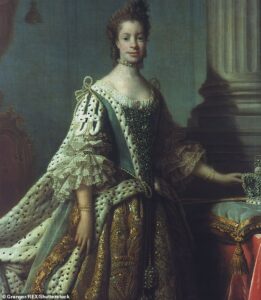 She wore twelve different wigs throughout the first season, but some stood out more than others. The first hairstyle that drew attention is the Beyonce-inspired Afro wig that honored the Queen's African heritage. The jumbo Afro was five wigs, all sewn together. Another hairstyle that stood out is the tall, black braided wig Queen Charlotte wore to Simon and Daphne's wedding party. The wig was so heavy that it had to be removed during breaks.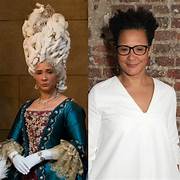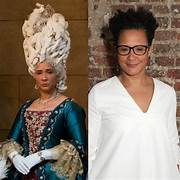 The Queen's Hastings Ball hairstyle is also magnificent and represents Simon and Daphne and shows that the Queen knows everything. 
Lady Danbury
Lady Danbury is an iconic woman, strong, fearless, and with perfectly groomed arches. Compared to other hairstyles in the show, her hairstyle is unpowered, simple, modest, and entirely inelegant. This speaks to her unfussy, straight-shooting character.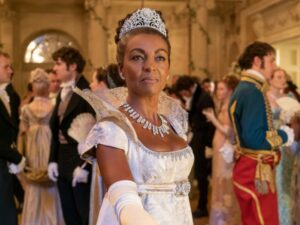 Anthony Bridgerton
Grecian influence held sway in men's hairstyle during the Regency period as it did for women. Men put as much thought into their looks as women did, with the windswept hairstyle Anthony wears being one of the most popular at the time.  Regency men typically wore their hair a little longer and more natural, and curls, waves, and side-whiskers were very popular.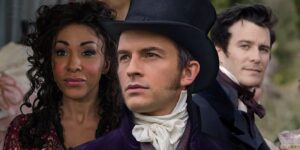 The fashionable Lord Bridgerton wears a wavy, side-parted hairstyle with bold sideburns, which he pulls off very well. Regency men looked to channel the powers of Grecian warriors with power-heavy hairstyles like Lord Bridgerton's.
Benedict Bridgerton
While Benedict Bridgerton's hairstyle doesn't boast the bold sideburns of his older brother Lord Bridgerton, his look still stands out. Benedict is softer and more sensitive and dreams of being a renowned artist. His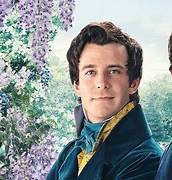 hairstyle reflects his character and artistic nature; the subtle sweeping of the hair on top is similar to hairstyles worn by the Regency era's Romantic poets.
Marina Thompson
Marina's hairstyle is a comparatively understated style, certainly compared to her housemates, the Featheringtons' OTT style. While almost everyone on the show wore wigs, Marina's hairstyle was mostly natural, with pieces woven in as necessary. Though she comes from a family with money, she's a country girl and a free spirit. The show's hair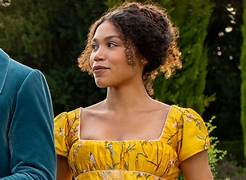 designers never set her hair even when she wore more elaborate styles. Her natural curls are simply dressed and worn in an up-do with no frills, ribbons, or jewels, allowing it to move freely.
Simon, Duke of Hastings
Bridgerton tries to keep with Regency-era hairstyles; it doesn't get it right every time. This is true for Duke Simon. His signature stubble that contributes heavily to the favorite swoon-worthy look we all love is technically wrong for that period. It would have been wrong for a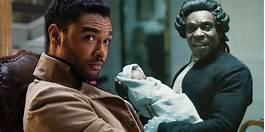 wealthy man in his position to stubbly. The show's hair designers kept for one reason; Simon looked hot and handsome, and they wanted all the girls swooning for him.
Conclusion
Bridgerton's hairstyles embody the Regency era. The show's hair designers and stylists took the best of those Regency fashions to create something extraordinary. The hairstyles are an extension of the characters, helping to tell their story.