Eating disorders can damage a person both psychologically and physically.  While the psychological damage may be a bit tougher to spot, the signs of physical damage are more apparent.  When a person becomes malnourished their body will begin to try to use its limited stores of essential proteins to keep its organs functioning properly.  Things that are not essential, like hair growth, are put on hold.  In effect, the person's body is shutting off the supply to everything that isn't needed and putting all of its effort into just staying alive.  While a person with an eating disorder may experience the loss of some of their hair, they may also begin to grow a fine 'peach fuzz-like' layer of hair over their bodies in order to compensate for their lack of body fat. It's similar to an animal that grows a think coat of fur for winter.
There are many factors that contribute to eating disorders.  While the pressure is there for the average person to look a certain way, imagine the pressure that someone who is constantly in the public eye must face.  Here are a few examples of stars who have battled eating disorders over the years.
Thandie Newton
In a recent interview, the beautiful actress, who currently stars in the highly regarded Sci-Fi  cable drama Westworld, opened up about her relationships and her struggle with bulimia.  She revealed that a combination of shame and emotional abuse led to her struggle.  Newton said that while shooting a film in Los Angeles, she began seeing a therapist for the first time.  She was able to realize that her sense of shame had led her to self-abuse.  Once that connection was made, she never again forced herself to throw up.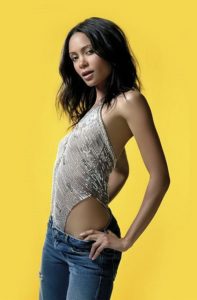 Kerry Washington
The star of T.V.'s "Scandal" is known as one of the most confident and beautiful faces in Hollywood, yet even she struggled with her body image at one point.  She admitted that during her college days, she would go on cycles of binging and then exercising for hours.  Washington said that food was her way of coping with guilt and shame.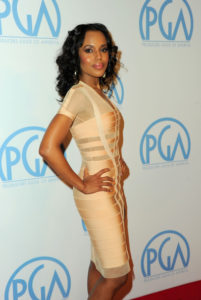 Oprah Winfrey
Because Oprah seems to be constantly in the limelight, her struggles with her weight have been visible to all.  She has made it her goal to bring the discussion of eating disorders in the Black community to the forefront.  She explained that many people, herself included, battle with their perceptions of themselves. She admitted that she is an emotional binge eater.
Oprah is currently affiliated with the Weight Watchers  company.  As a result she is well on her way to attaining  a healthy body weight and seems to have  fully recovered from her eating disorder.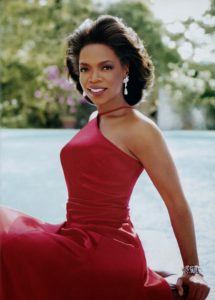 Janet Jackson
For Janet, her trigger was the death of her brother Michael.  In a candid interview in 2009, Jackson admitted that she became an emotional eater after his death.  Her weight has fluctuated for years, however, she now has a handle on her health and she has been able to reach and maintain a healthy weight.
We congratulate Janet on the recent addition to her family and wish her a healthy recover to her pre-pregnancy weight.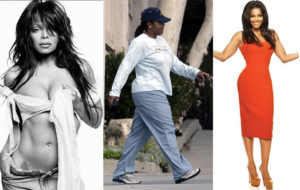 Brandy Norwood
During an interview, Brandy revealed that she had faced some tough issues with body image as a teen. She had so much going for her at the time, yet she still felt as though she was falling short.  She confessed to using a combination of diet pills, vomiting, and starving herself in order to keep a slender figure.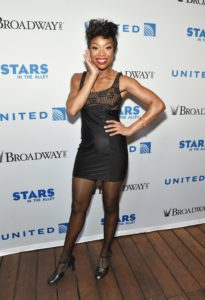 Cheryl 'Salt' James
For years James hid her secret from everyone, even those closest to her.  In a 2007 interview, Cheryl opened up about her depression and bulimia.  She revealed that she would binge and purge up to seven times a day.  She finally decided that the only way she could get well was to leave Salt-N-Pepa and the chaos that her life of touring had become.  She has since conquered her eating disorder but admits that she struggled with body image issues even after beating the bulimia.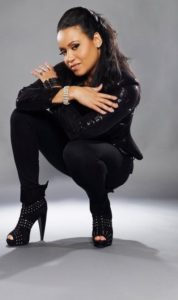 Demi Lovato
Demi has had a very public battle with eating disorders, entering a treatment facility at the age of 18 for help with her anorexia and bulimia.  She said that she has days where she is so ashamed of her body that she wants to just stay in bed.  She talked openly about her mother and grandmother's struggle with bulimia.  It had a big impact on her life and her own body image.  In 2011 she took to the Twittersphere livid about a joke made on the Disney Channel show "Shake It Up".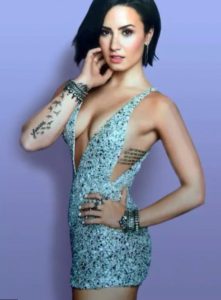 One of the show's characters had quipped, "I could just eat you up, well, if I ate."  Lovato believes that young girls need to see a variety of body images and types on television so that they don't feel pressured into looking like an unrealistic ideal.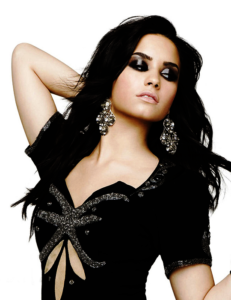 The Cheeky Girls
The Romanian pop duo began to have body issues once they were thrust into the spotlight.  They felt the pressure to have the 'perfect' body.  Their anorexia got so bad that it affected their cognitive function. Most of their years of touring are lost to them.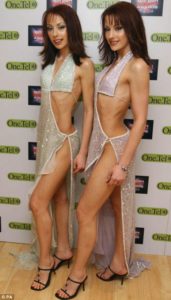 They even developed lanugo (a fine down) all over their bodies.  In the end, first Gabriella, then Monica became fed up with how constrained their lives had become.  They now are at a healthy size 10.
Karen Carpenter
The musical legend Karen Carpenter's battle with anorexia brought the disorder to light.  What had once been considered a passing phase in young girls, became recognized as a legitimate disease that deserved treatment.  Karen began her weight loss in 1967 and quickly went from 140 pounds to 120.  By 1975 she had dropped to 80 pounds.  She was so weak that she collapsed onstage in Las Vegas during a performance.  Although she sought treatment and reached a healthy weight, the damage to her body had already been done.  In 1983 Carpenter died of cardiac arrest at the age of 32.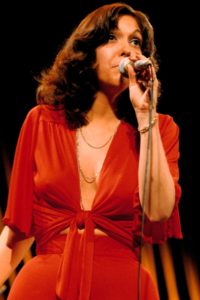 The warning signs are there if you look.  The person with an eating disorder may begin to rapidly lose weight, experience hair loss, develop lanugo or simply start avoiding places where food might be served.  If you notice any of these signs, let them know that you care about them and that you will be there for them if they will seek help.