The New York Fashion Week is a major source of inspiration for street hairstyles and the trends which are launched at this event become all the rage of the next summer. Any woman, regardless of her hair length and texture, can find inspiration with this bi-annual fashion event, and black hair styles have been very well-represented at the 2015 February edition.
If you too are considering a hairstyle change this spring, you can seek inspiration with New York Fashion Week models on the runway or with the celebrities attending the event. The last edition featured natural black hairstyles that are easy to adapt and maintain no matter what you styling skills and hair texture is. Check the following selection of hairstyles that we have gathered:
1. Natural curly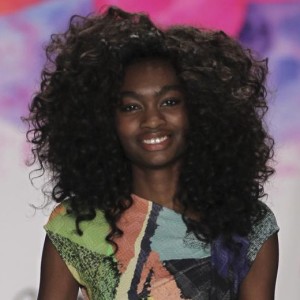 This style was created by hairstylist Edward Lampley for the Desigual fashion show using the Aircraft Pomade Mousse from r+Co to maintain the curls' shape in control. This style is recommended to women with a curly rather than frizzy hair texture, otherwise this coiffure is rather difficult to create and maintain. Anyway, it's a style worth trying in the spring, before weather gets too hot and heavy curls become a burden. This look is definitely the dream of every woman having black hair.
2. The long straight do
This hairstyle requires relaxing hair, and it mostly suits oval and heart shaped faces. If you have long relaxed hair, you can also wear bangs, which would not be an option for natural frizzy hair. The advantages of this hairdo are its fresh and sleek appearance, and the fact you can wear loose curls, on condition that you don't keep the curling iron in contact with your relaxed hair for too long.
3. Twists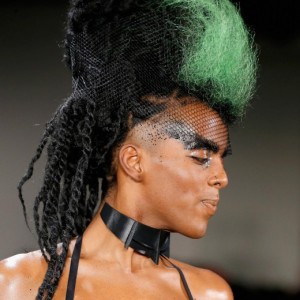 If you have long natural hair and you want to keep it a bit more restrained and orderly but without wearing braids that pull your hair and take even a whole day to dry, a friendlier solution is represented by twists. They cause less stress to your hair, they create an exotic look, and they look more elegant than braids. Two-strand twists are easy to make and hang loosely to your head. This style is suitable for long, thick hair, with a coarse texture, which will prevent the twists from unraveling without you needing to secure them with clips. Twists can be pulled back in a ponytail if you don't want them to hang loose.
4. Shoulder-length relaxed hair
Compared to waist lengths, this hairdo is more versatile and its suits almost all ages, face shapes, and textures. Moreover, if you want to curl your relaxed hair, it should only take you around 15 minutes compared to the heavy work needed on long hair.
5. Blonde short hair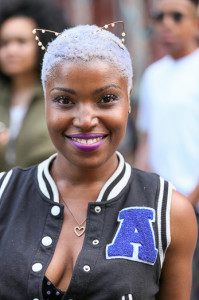 This extravagant hairdo is not a new idea, but it always looks fresh and edgy. The contrast between dark skin and bleached hair is simply stunning and it suits the best younger women. Pair this hairstyle with a confident attitude and you can feel like a completely new person. This style is easy to maintain, as hair dries quickly and you just need to apply some scalp and hair moisturizer from time to time. It's your choice if you want to make this a permanent look or just wear it for several weeks. The good thing is you can always switch back to black hair and by dyeing it in its natural color.
6. Short hair in bold colors
The previous hairdo can be easily converted into a funky style by changing its color to blue, green, pink, or any other hue you can think of. Seen on a woman attending the New York Fashion Week Spring 2015, this style goes very well with large eyeglasses with colored frames (choose a different, contrasting color) and a daring outfit. You can easily switch back to blonde or your natural color, especially if the hair dye you use is not permanent.
7. Relaxed short hair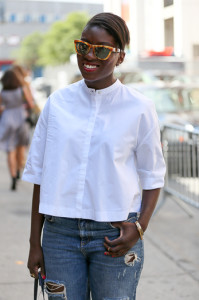 Relaxed hair is also for short lengths, not only for long tresses. Relaxed hair requires some extra maintenance, so relaxing short hair is actually one of the best choices if you want to enjoy straight locks. We have seen this modern look on Nikki Ogunnaike while attending New York Fashion Week Spring 2015. If you prefer a cool casual style, this hairdo is definitely for you! Make it bolder by adding highlights in a brighter color compared to your natural hair.
8. Mid-length natural hair Mohawk
A short Mohawk may look too masculine and rough, while a bit longer natural curly hair looks very fashionable and feminine. Add a touch of color here and there and you'll get a very informal and sexy look.
9. Extra short hair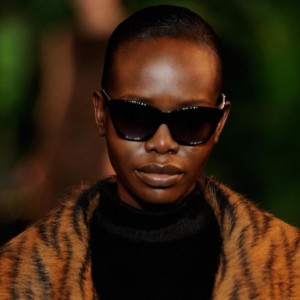 Whenever your hair is too damaged or you want to make a radical change, you can try a natural, extra short hairdo. If you have black hair, you are very lucky, because this solves-it-all style suits all hair textures and face shapes. And you don't necessarily have to be a bad girl to wear it – remember Lupita Nyong'o? She wore this style and was considered one of the most elegant actresses taking part at the 2014 Oscars gala. Short black hair will never be out of style, and as a proof, it has been displayed by numerous models at the 2015 New York Fashion Week Spring edition.
10. Natural curly hair bob cut
The only challenges of this hairdo are making sure your curls are well-defined and your hair has a smaller volume compared to natural frizzy hair. The bob cut is extremely versatile and it suits all personalities and outfits.
Women with black hair have a very wide range of hairstyles to choose from, and the February edition of the New York Fashion Week comes just in time to provide inspiration for a fresh hairdo to greet the arrival of the spring. Simple or extravagant, low or high maintenance, natural or in electric colors, which one of these 10 hairstyles will you adopt in 2015?