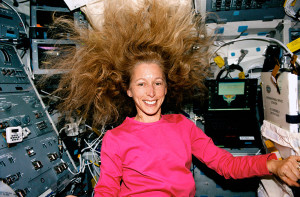 As it is often said and written from as far back as Biblical times, a person's hair is his or her crowning glory. And oh boy do we take that seriously!
There are whole industries dedicated to catering to hair care, styling, hair trends and accessorizing – not to mention websites dedicated to writing about it!
So now we write about how we take it all for granted. Yes, because we often like to complain that our hair is too long, too short, too frizzy or too hard to maintain and take care of! What we don't realize is that hair care anywhere on Earth is so much easier and convenient compared to what astronauts have to go through in space – and we're talking about simply washing one's hair!
Astronauts have to go through one of the most extensive and rigorous physical, mental, and psychological exams on the planet to be able to get a free pas to space. And when they do get there – well, it's not exactly a walk in the park! They are confronted with cramp living quarters, a physically taxing and alien environment, and having to live on limited or rationed supplies.
Now imagine having to do your hair in zero gravity! NASA has actually uploaded pictures and videos of their astronauts (both males and females) showing the different hair care regimen they do on-board the space station. They actually have a host of awesome videos where astronauts do seemingly ordinary tasks that become so much more challenging in their low gravity quarters!
Take for example American astronaut Karen Nyberg. In her video, she demonstrates how a long haired blonde like herself washes her gravity defying locks with a bag of warm water, a bottle of no-rinse shampoo, a small towel, a comb, and some very careful planning. She talks about doing her morning hygiene routine with everything having to be able to stick to the wall so as not to float away, and limited water use!
There have also been cases of astronauts getting haircuts in space, very interesting, eh? In January 15, 2001, NASA astronaut Cady Coleman gave European Space Agency astronaut Paolo Nespoli a haircut on-board the International Space Station. Imagine the tedious effort to use a vacuum cleaner every so often during the haircut so the cut hair won't float away!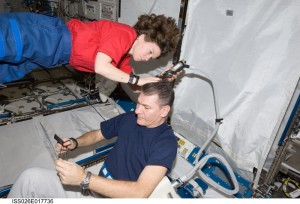 Now that you know the hardships of taking care of your hair in space, normal things you do here on Earth like washing your hair seems like a breeze, right? But if you find yourself being sent up to space (hey all things are possible!), you better be prepared!
And we've got your hair covered – you take care of the rest! So what hairstyles, trends or accessories would be best suited for space life?
Low Maintenance Hairstyles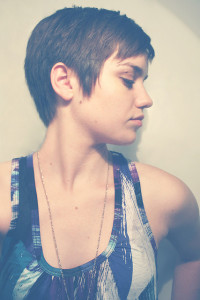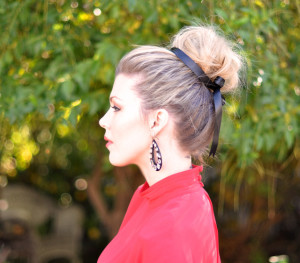 The best option is to go with something low maintenance, so wearing it short can definitely work. There are tons of short hairstyles that would definitely suit any face shape, try a pixie cut if you can rock it! Beware though, the low gravity will make everything float up, especially hair, so if it's not cut short enough, you might end up looking a tad bit electrocuted! Men have it easy, they can go bald or go with at least a military cut. But then women can always play it safe and stick with a bun or ponytail, just make sure to pack a lot of hair ties!
Or you can go all out with the best astro-hairstyle in space like astronaut Judith Resnik. She was not only the second American female astronaut but she also had fabulous space hair. Fellow astronaut Mike Mullen wrote about her memorable hair in his Riding Rockets memoirs where he spilled the beans about how Resnik's hair had damaged the new and very expensive IMAX cameras. Resnik, very much conscious about the status of female astronauts, she being only the second, threatened to "cut your heart/s out with a spoon" if the crew so much as breathed a word to Mission Control. No one said anything and they just called in a malfunctioning camera for no apparent reason. Way to go, Judith!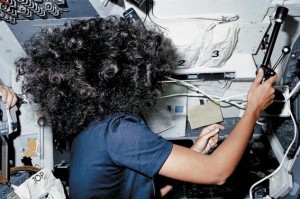 Female astronauts who rock their hairstyles in space: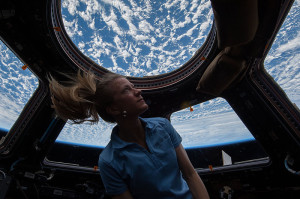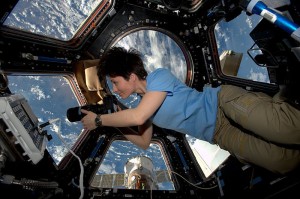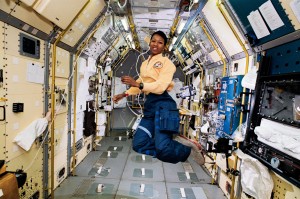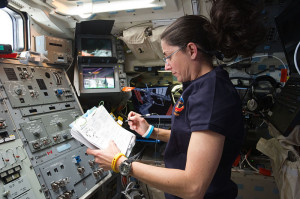 Who knew space hair could be so tedious, entertaining, disastrous or even so stylish?!