Chances are, at least once in your life, you've cut your own hair. You might be in your pre-teens or in your thirties, but cutting your hair by yourself can be fun, somewhat liberating.. and all sorts of scary! You obviously don't want to screw up but we're sure the pre-teen you probably already got into a couple of DIY hair and bang mishaps, one tiny snip at a time. Although a visit to the stylist is needed by everyone regularly for good hair maintenance, it can be costly, when sometimes all we need is a short trim or maybe a quick fix up or refresher of our bangs.
Trimming is important in keeping your hair strands healthy and there's nothing wrong with a little DIY hair trimming every now and then. Removing the ends will prevent the shaft from getting split up and it's essential that you do this at least every 6 weeks when you have long hair. You can also do dusting or micro trimming for shorter hair, which is basically removing just a bit of the dry ends. One reliable way to do so is doing a ponytail DIY hair trim (for long straight or wavy hair) with these short steps:
– Make sure that hair is damp and de-tangled before gathering into a tight ponytail at the very top and center of your head. Think Ariana Grande after showering!
– Pull hair up while squeezing the elastic band slowly up and stop a few inches from the ends.
– Gathering the ends, cut a bit into the ends of the ponytails, working your way through the whole bunch.
– How much you want to cut off depends on you. You can do dusting or hack the whole thing off if you're feeling more brave and want a shorter 'do.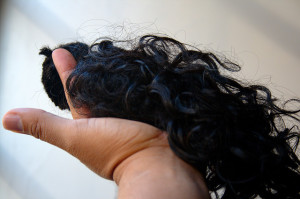 You also have to make sure that you're equipped with good tools for DIY hair trim. Have a razor sharp pair of hair shears that's meant really meant for hair and not your average paper scissors. Try out one of the best high performance hair shears out there, the Tweezerman Stainless 2000 Shears, made of ice tempered stainless steel that are extra sharp for a longer lasting edge. It's available on drugstore.com for $27.00.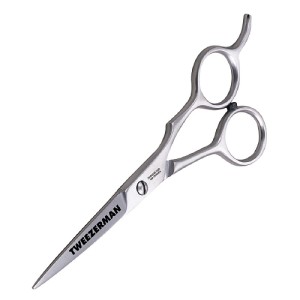 For hair shears to perform best, they need to be balanced and sharp, and made for comfort and control. It's what you basically need in hair shears, whether you're a professional or someone who likes to do DIY hair trimming at home. The cutting should feel smooth each time to ensure that it stays sharp. You can take it to have it resharpened by a professional when the blades start getting dull.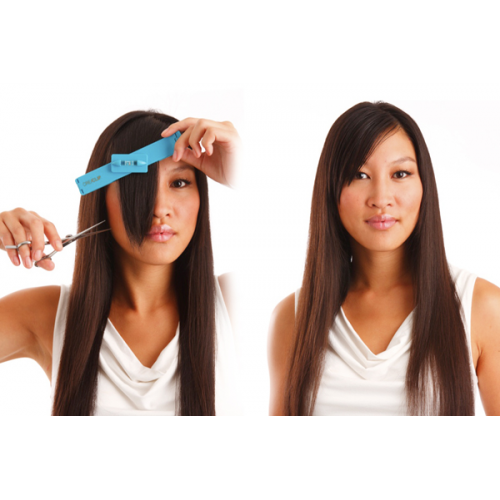 With Christmas fast approaching and people getting a tad bit busy for a trim or haircut, getting them a DIY hair cutting tool might be a useful gift. Try out a Creaclip set, which can help you trim bangs, cut your children's hair and even create layers. It comes with 2 clips, which secures the hair in place during cutting and making sure that it evenly distributes the hair. The shorter blue clip is for cutting shorter hair and bangs, while the longer curved white clip is for long hair and for creating layers. It's a great gift for someone who usually does a long of trims and has short bangs. Heck, it's a great gift for a mom! Check out more about Creaclip on creaproducts.com, and the 2-clip set is priced for only $29.99.
When it comes to dads, getting them their own DIY hair trimming set seems like a good idea too. While women like to frequent salons more often, men just usually go there to do what is necessary. And if it saves them a few bucks, something like the Single Handed Barber from Hammacher Schlemmer, if you're looking for a close cropped clean hairstyle!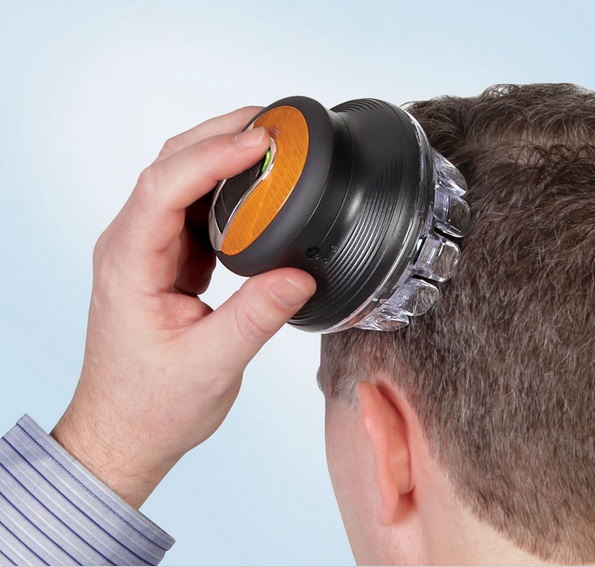 You just "comb" the gadget through your hair and it trims according to the length you specified – comes in 4 different lengths (1/8", 1/4″, 3/8", 1/2″). Its ergonomic design makes it easy to use and navigate around your head and comes with rechargeable batteries. Definitely a perfect gift idea for dad! The Single Handed Barber is available on hammercher.com for only $59.99.
For other fun gift ideas that might not necessarily mean getting a DIY hair trim, head on over to fungadgets.com!