Lupita Nyongo is one of those phenomenal icons who seem to come out of nowhere and take the entire world by storm. She definitely has an interesting as well as inspiring story behind her rise to her current status as a successful Academy Award winning Hollywood actress and style icon. Besides winning the 2014 award for best supporting actress at the Academy Awards, she was named People's 2014 Most Beautiful Woman and Glamour Magazine's Woman of the Year. She has caught our attention with her bold and ever-changing styling choices, particularly her astounding hairstyle choices.
Lupita's Debut Shaven Look
When she broke into the limelight Lupita spotted a clean shaven look, which complemented her strong facial features.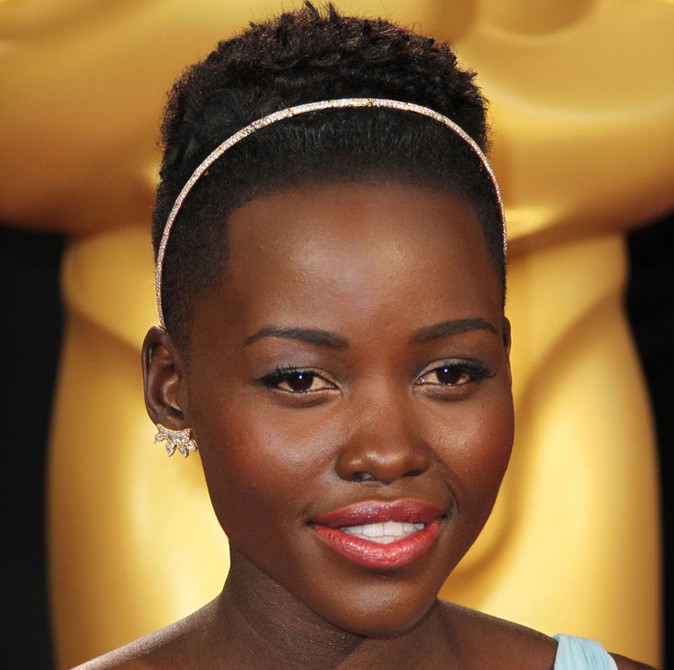 However, even with such a short do Lupita tried out bold looks by donning diverse accessories and trying out different styling choices.  For the 86th Annual Academy Awards, she donned a headband to complete her short 'angelic hairdo.'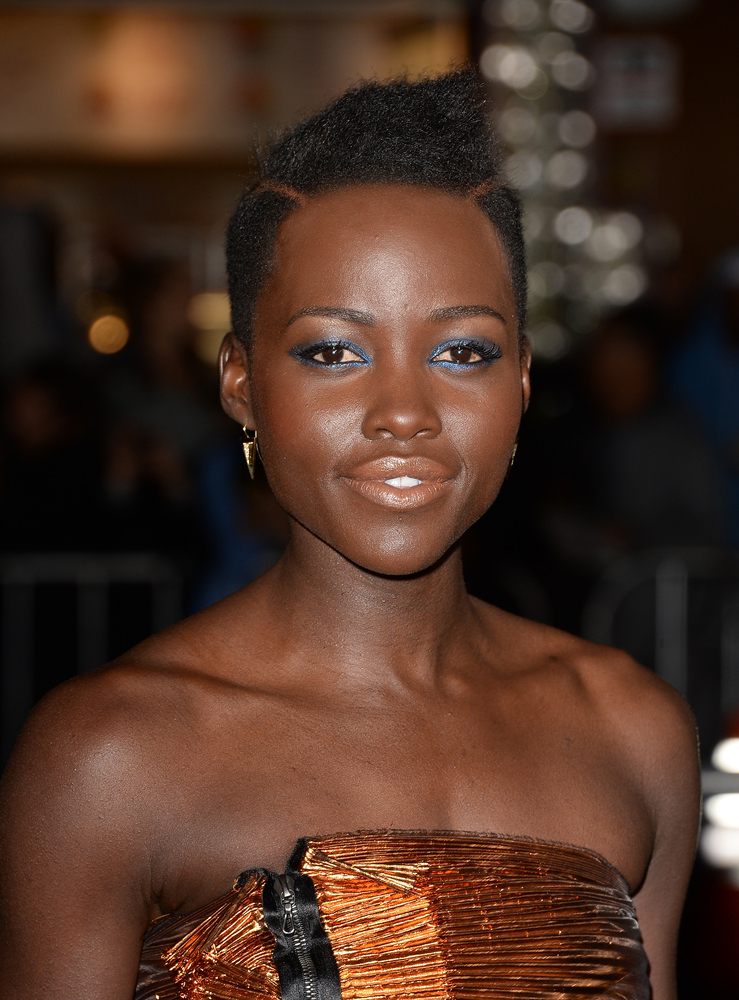 She spotted a short Mohawk look for the Premiere of Universal Pictures and Studio Canal's 'Non Stop.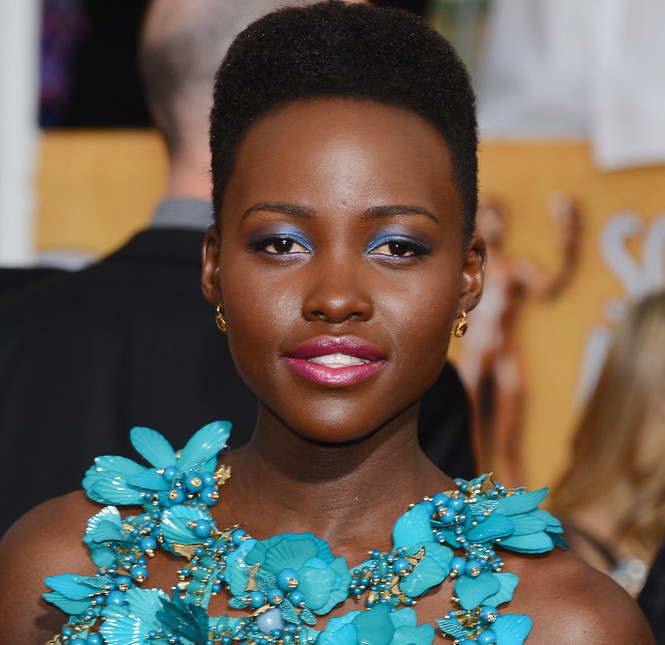 She seemed to start growing out her hair and spotted a grown out look for the 20th Annual Screen Actor's Guild Awards in 2014.
Grown Out Do
In late 2014, Lupita was spotting a much grown out natural look. She was still experimenting with bolder hairstyle choices.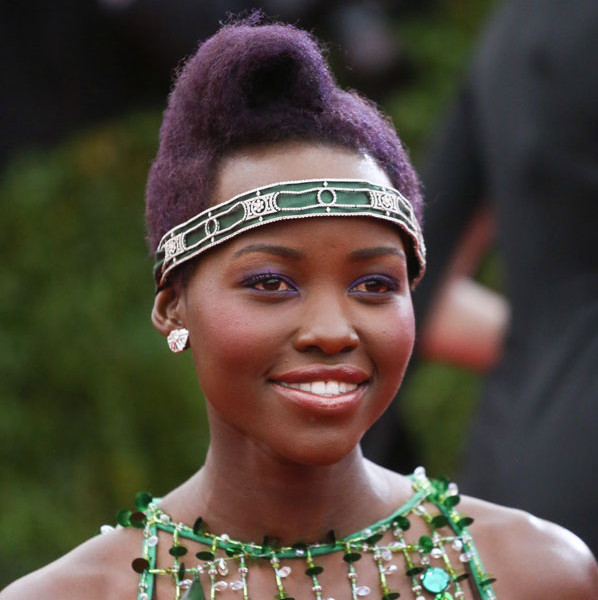 For the Met Gala Awards she went purple complete with a fore head band matching her green and earthtone Prada net dress.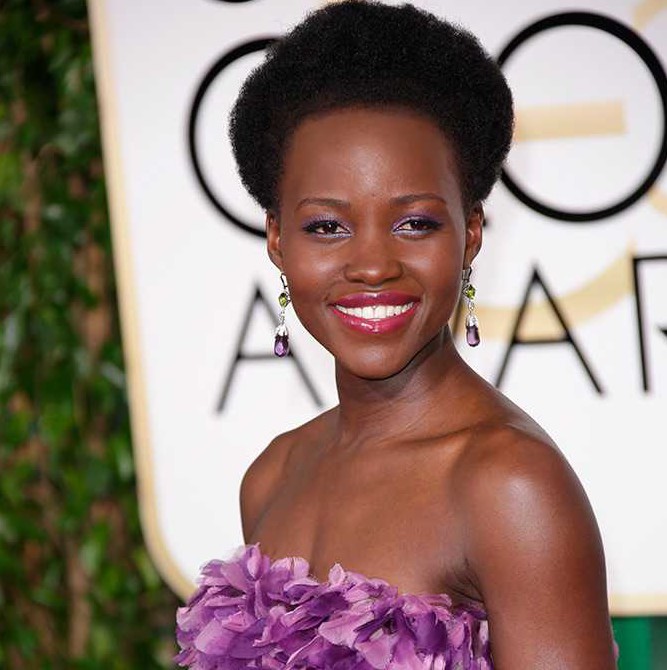 For the 2015 Golden Globe awards Lupita was spotting a natural afro look that she paired with a gorgeous Glambattista Valli purple and white gown.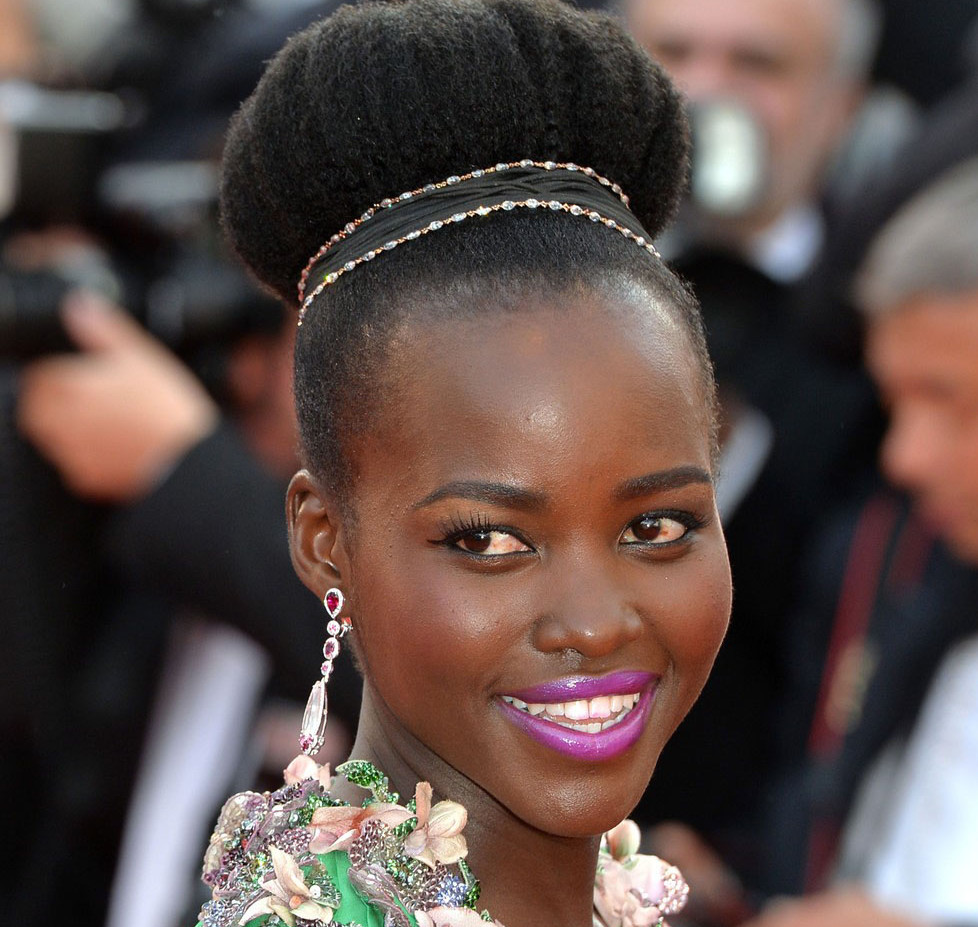 For the 2015 Cannes Film Festival, Lupita was yet again a showstopper donning a plunging Gucci dress in green topped off with her grown out do. She accessorized her hair with a gold piece to complete the look.
Lupita's Long Hair Looks
Through most of 2015 Lupita has been spotted with much longer hair dos and she has kept it slaying characteristic of her.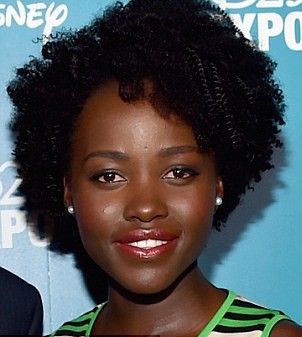 For the Disney D23 Expo she was spotting a mid-length curly look. She paired it with a simple yet flattering stripped green dress.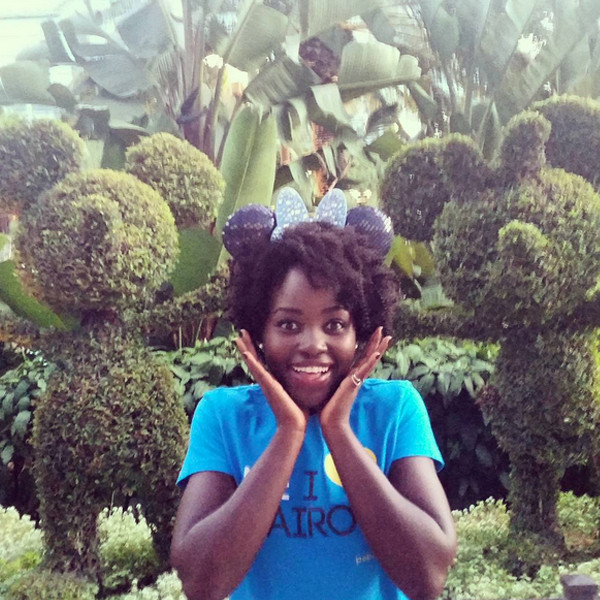 She also shared a fun photo during her tour of Disneyland on her Instagram page, spotting the curly look with a cute blue hairbow.
Braids and Cornrows
Everyone talks when Lupita debues a new look on red carpets and runways. It is undeniable that this year she has gone on an interesting hair growth journey. She has been revealing her longer mane in buzz-creating hairstyles.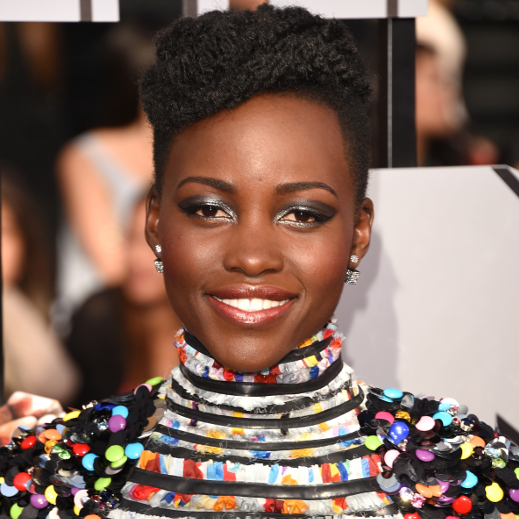 Lupita might have started her hair growth journey late last year and kept on revealing the changes stunningly. She spotted a pompadour hairstyle when she graced the 2014 MTV Movie Awards.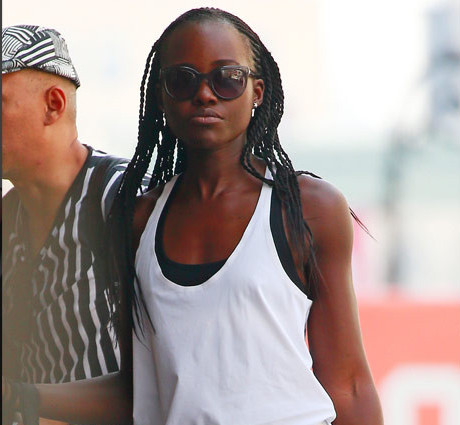 She's spotted braids up and about NYC early this month, which many consider a dramatic change from her signature crop. Her fans tend to feel that whether in long or short hair, Lupita always looks gorgeous.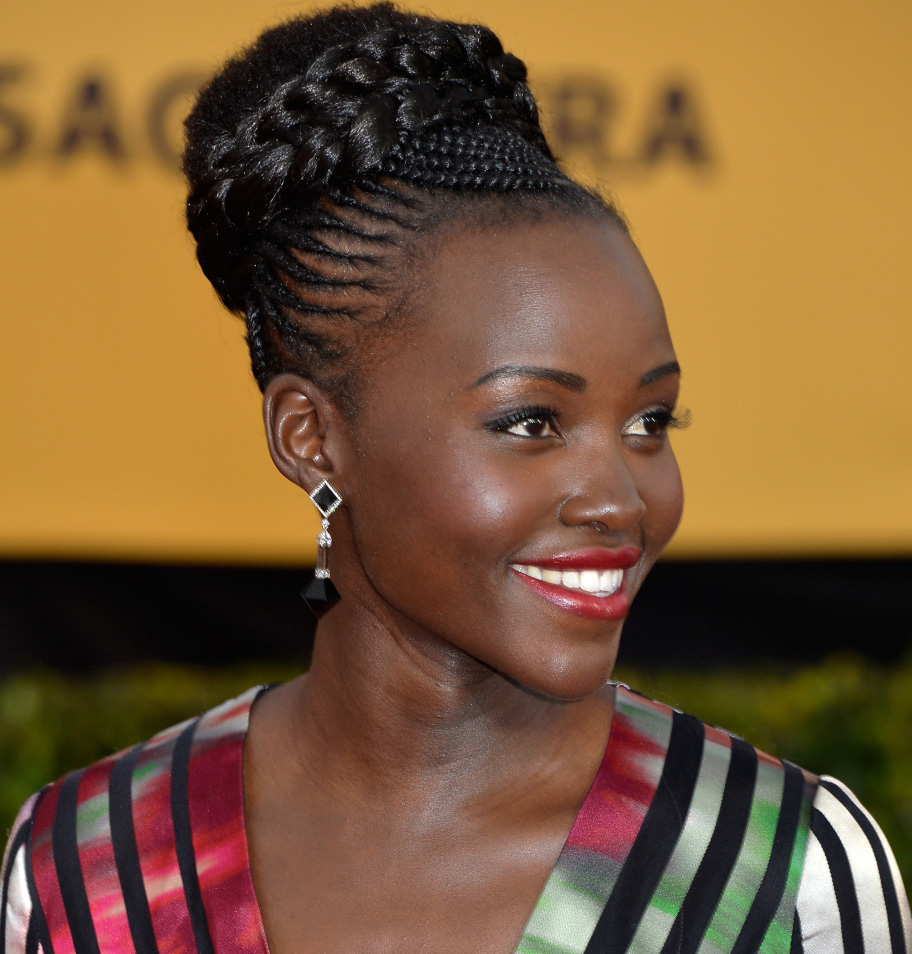 To the 2015 Screen Actors Guild `Awards Lupita donned a charming cornrow bun do. She paired the look with a gorgeous  Giambattista Valli floral gown.
'Hat-ccessorizing'
Lupita doesn't shy away from hair accessories and she does rock them quite fashionably. She is well known for rocking headbands and hair jewels, even while she had her short crop. She seems to have taken to hats and wears them ever so glamorously, even while on a 'Glamping trip.'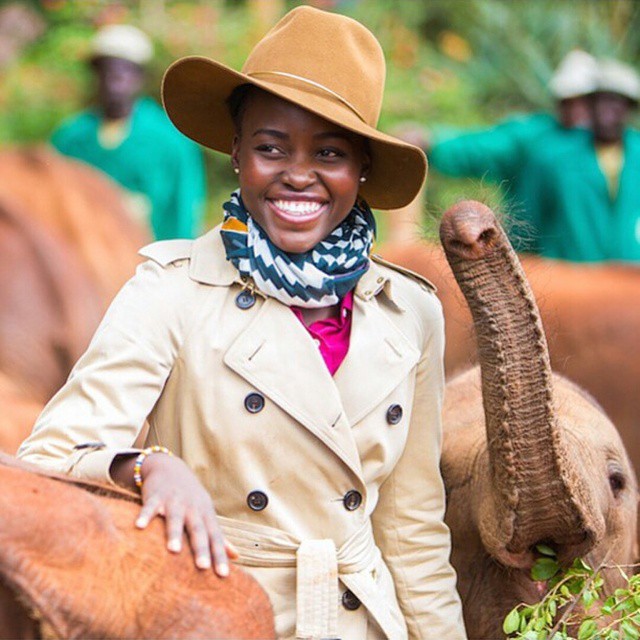 Recently, Lupita partnered with WildAid upon returning to her native country Kenya. She went on a Safari and shared photos from the trip spotting a safari hat.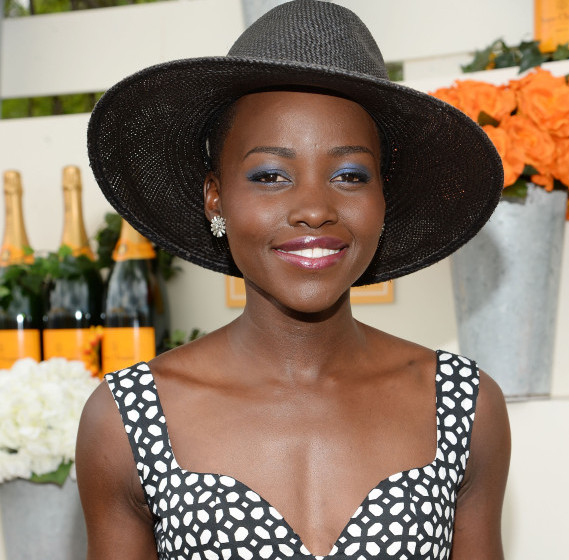 During the 2014 7th Annual Veuve Clicquot Polo Classics held in New Jersey, Lupita donned an Alexander McQueen  black and white pleat dress topped off with a black brim straw hat.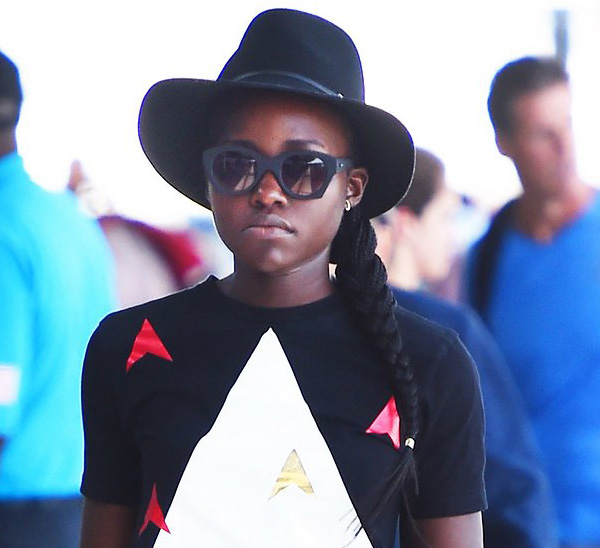 This Summer she was at it again showing off her hair transformation and of cause topped off with a black fedora hat. From the side peaked a long plait and she looked as stunning as ever.
Natural Hair Styling Tips From Lupita's Hairstylist
Lupita's hairstylist Ted Gibson started styling the award winning actress's hair 2 years ago during the filming of 12 Years A Slave. He shared natural hair care styling tips that he uses on Lupita's hair.
Maintaining Moisture and Shine
Gibson says that women with textured/curly/wavy hair tend to have a concern about their hair losing its shine and moisture. He says that an easy tip to get around this is by microwaving 2 or 3 towels that are damp. Use  the towels for a scalp and hair steam treatment, which works wonders to seal in moinsture and maintain shine.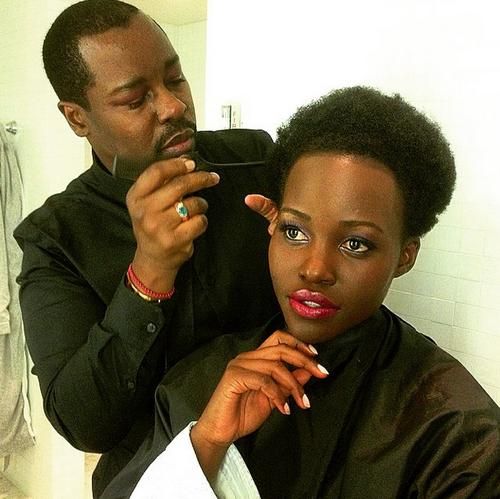 Play around with Styling Choices
Gibson also says that a number of stylists and celebrities often shy away from textured/afro hair. They tend to think that it comes with limited styling choices. He dymystifies this myth and says that there are a number of styling choices for women with textured/afro hair. This includes braiding, smoothing, creating different shapes by pinning and rolling as well as coloring. He also encourages accesorising afro hair using jewelled headbands as well as other bold hair accessories.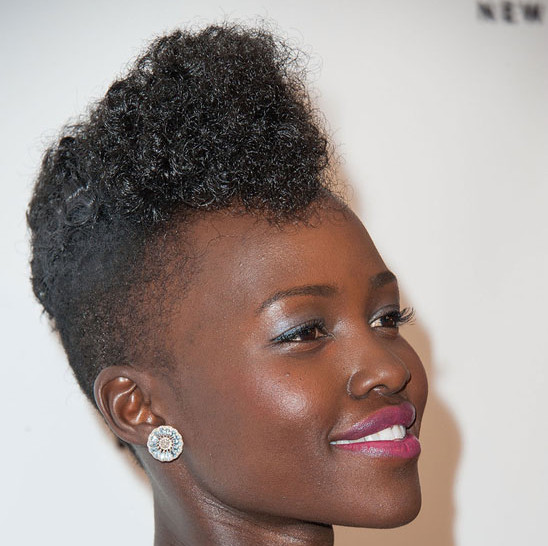 Condition as Often as you Shampoo
Gibson also advocates for conditioning as often as you shampoo. The thought behind this is to moisturize the hair as much as possible. On the contrary he advices using a strong shampoo to remove environmental toxins and the build-up of hair care products, if you shampoo once weekly. He also advices for use of a mixture of sulfate and sulfate-free products cleansers. He acknowledges that sulfates are known to strip the hair off some of its required nutrients and oils, but he says it is not the same case for every woman. He says that every woman should know her hair and learn what products best work for it.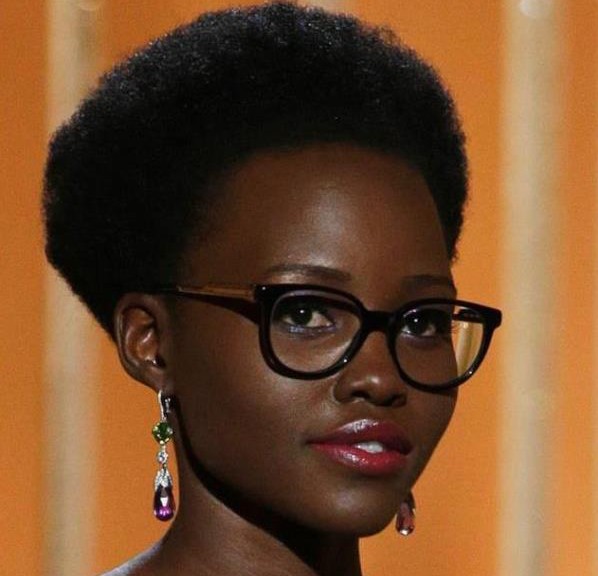 Natural is Not For Everyone
Lastly, Gibson encourages women who are transitioning to natural hair to be patient. He also says that natural isn't for everyone, but for those who decide to make the change care should be exercised. Particualrly for those who decide to maintain length and not go for the big chop. He syas that the lines demarcating the processed length and natural growth should be closely monitured to prevent breakage and damage.