Hair color – an aspect of hair styling that is done by most women today (approximately 92% of women, according to a Wella hair color survey), and is done a great deal and in a wild variety by the bravest and most fashion-forward of us all – this means picking out the trendiest and wildest hair colors out there and trying it out for themselves. But as we all know, when it comes to the realm of hairstyle and hair color exploration, celebrities are unmatched. Heck, pick any color in the rainbow and we can probably match a celebrity to each color! Better yet, we can certainly name one celebrity who has tried all the possible hair colors out there – Nicki Minaj, anyone?!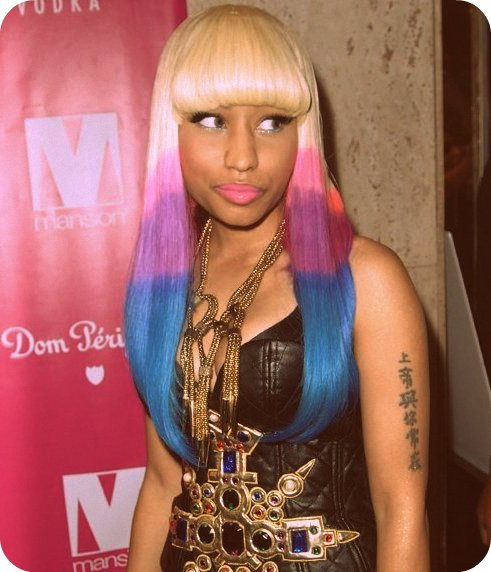 The Queen of Hair Coloring, Nicki Minaj
Hair coloring has been around for ages. As to do with anything style worthy in the ancient world, the Egyptians beat everyone to it and were the first in recorded history to use henna to dye their hair.  It was very much fashionable during the time of the Pharaohs to use henna, which was rumored to have been done so by the big bosses, namely Ramses the Great and even Queen Cleopatra herself! And in this century, hair color is done so often that back in 1968, the US government have forgone asking the Americans to list down hair color as part of their passport information as it was deemed worthless and confusing since no one stuck to their own hair color anyway!
So why do we change hair color anyway? While it seemingly appears we do so mainly for aesthetic reasons (to hide those early greying strands, to check if blondes really do have more fun..), it can mostly be linked to a psychological reason – you crave for change in your life sometimes and hair coloring is an easy, painless, and a non-permanent way to doing it, versus changing your address or getting a tattoo! And this want for change can be ticked off by anything – breaking up with a boyfriend, a change in the season (darker locks during fall/winter and lighter colors during the warmer months of spring and summer), or even just spotting your favorite celebrity sporting a new and fantastic hair color. Okay, you got me, so most of the time it is due to aesthetic reasons! Honestly, who doesn't want to look good, right? And who better to serve as style inspiration than a well-known, highly stylized celebrity, yes?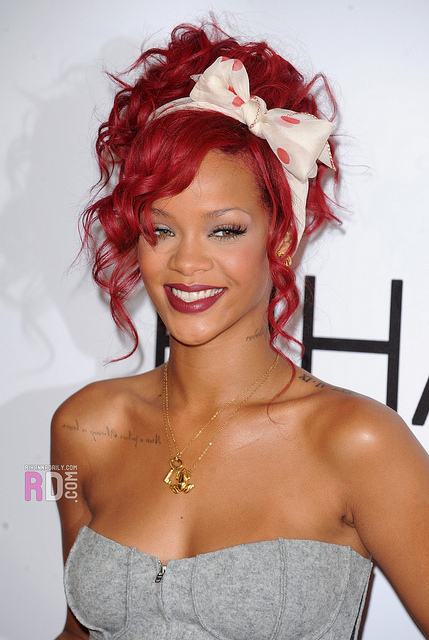 Rihanna with her newsworthy red curls
Celebrities are like hairstyle chameleons, some especially more so than others. While we mortals would love to copy their fabulous hairstyles and luxurious lifestyles, the truth is simply that we can not – unless you have unlimited money in your bank account. Rihanna is reported to be spending a whopping $2,000 a week on her personal hair stylist, but then again she changes her hair style more often than we do clothes! However, celebrities really change their hair colors and hair styles because it's part and parcel of the PR package – purple-haired Katy Perry changing into a shade of blue two weeks later makes up for a ton of media mileage. So I guess we can safely say that its all part of the job – to get noticed and create buzz-worthy status, just in time for a career milestone – say, like an album launch or a film release.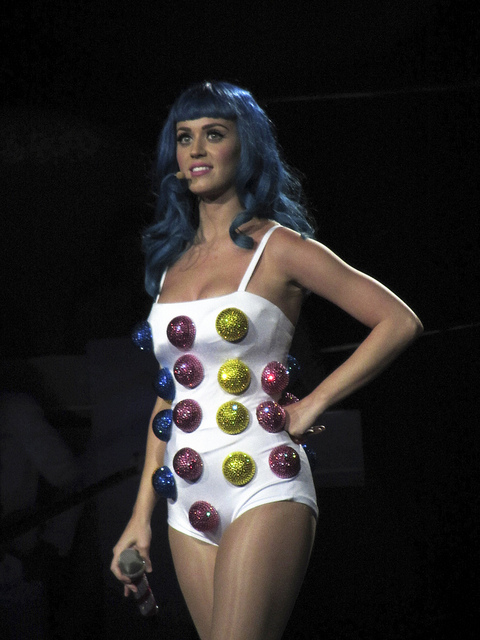 Katy Perry with her blue hair during her California Dreams Tour
Who are these noteworthy hair chameleons? Well we've already mentioned notable names like Rihanna (think super short pink pixie cut seen in a basketball game in LA to Riri rocking a curly cherry-red hue), Nicki Minaj (all colors of the rainbow, with a side of boa constrictor), and Katy Perry (starting off her fame with jet black gradually going redhead, blonde, hot pink to a blue and purple streaked ponytail for the Nickelodeon's  Kids' Choice Awards). Who else can we put on the list?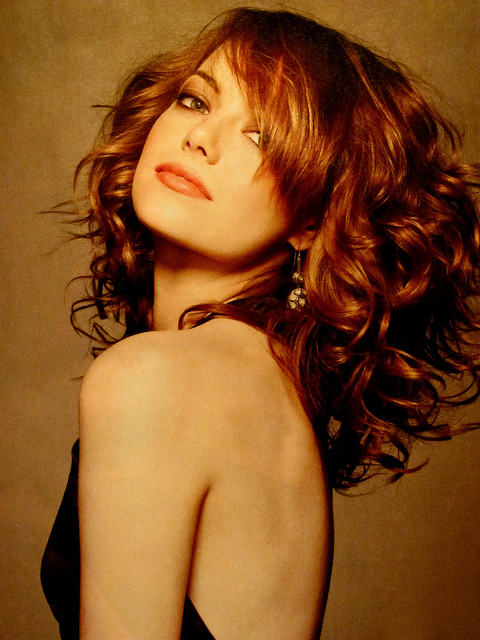 Emma Stone dyed her blonde hair a warm red and shot to fame in the movie 'Easy A'
There's the ever lovely and versatile Emma Stone who is a natural blonde but has sported different colors and was launched to fame with a warm red on her movie Easy A. Since then she has gone on to several hues, including deep auburn, strawberry blonde, platinum blonde and all the shades in between.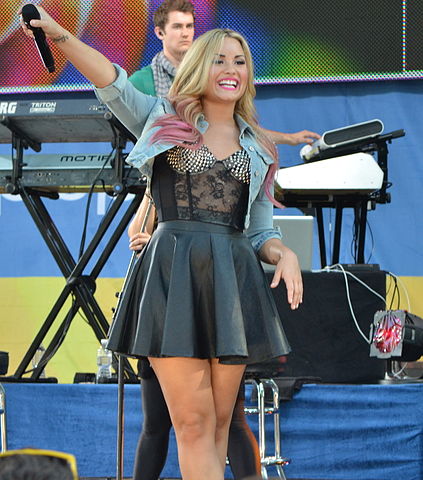 Demi Lovato loving the ombrè look during the Good Morning America, Summer Concert Event
As for young pop singer Demi Lovato (natural hair color being brunette), her colors range more on the colorful side and is a known hair chameleon, appearing on Jimmy Kimmel Live with indigo curls, doing ombrè styling with pink, violet and blue tips at different times (and all mixes of colors at once too), going hot pink during the 2014 Grammys, going platinum blonde several times, doing the redhead and copper sceneand sticking to her natural brunette and raven black hair at times. These hair color changes are also complemented by a host of hair style and hair cut changes, from Skrillex for an undercut, faux mohawks, bobs and bangs. Her stylist Amber Maynard of Nine Zero One salon must sure be one busy gal with all those changes going around!
The former That's So Raven star and current co-host of the View, Raven Symone has become a hair maven these days. She has been seen sporting all kinds of styles, cutsand colors, going the shades of grey, candy floss pink, platinum blonde, lilac and even trying out rainbow color bomb cut of purple, blonde and grey, as seen in her Instagram picture below. She has certainly explored the world of hair trends beyond her child star years, going full Mohawk, braided, mega curls, the polished high pony tail look, making sure she is far from that sweet and sassy Raven she was known for.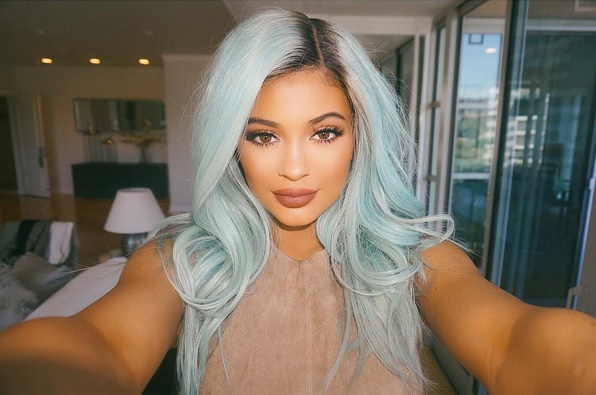 Kylie Jenner tries on yet again another new color – this time a pale icy blue with her dark roots showing.
Kylie Jenner is also making a name for herself – both in celebrity status and hair changing fame. Although experimenting with different hair colors documented on herinstagram page and fashion magazines everywhere, colors such as the icy blue she's sporting in the picture to teal, blonde and gray, she takes the cue from older sister Kim Kardashian and makes sure to go back to her raven black locks. She is also overly fond of wigs and dip-dyed hair extensions – with all that hair color, most of it should be fake or there might not be any hair left at all when she reaches 20 (she has just turned eighteen by the way).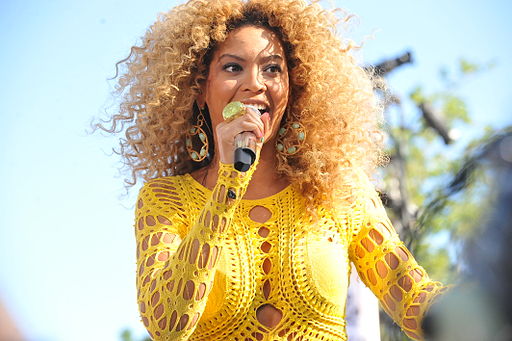 The Queen Bey singing with a head full of golden yellow curls during a Good Morning America Summer Concert Series
Beyonce is the queen in most things even beyond music and when it comes to fantastic hair and incredible style, she certainly has that. While she has never been one to experiment on more of the wilder colors of the rainbow on her hair, she has changed her hairstyle and color enough over the years for fashion publications to document her hair evolution. Jumping from long to bob short, braided to bone-straight, mega tight curls to soft waves and hair colors that range from brunette to ebony to warm red and platinum blonde with highlights and ombrè coloring in between, Beyonce has certainly rocked her looks and locks throughout the years.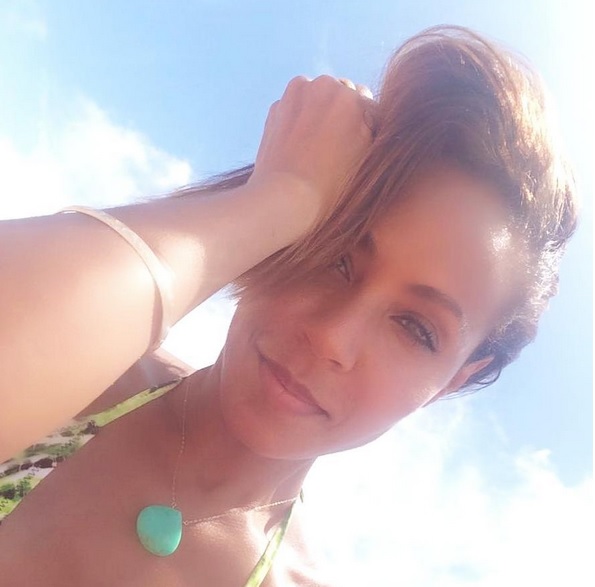 Sun-kissed Jada Pinkett Smith with summer highlights in her hair
This also goes the same for fellow African American actress and singer songwriter Jada Pinkett Smith, with the difference being she certainly experimented on more colors when she was younger. Back in the heady days of marrying the Fresh Prince of Bel Air Will Smith, you could see her with her hair dyed pink or in a gray buzz cut that accentuated her beautiful feminine features. These days she's toned down the look as a mom, but no less beautiful, and can be seen rocking warm and darker hues with ombrè hair coloring, looking good as she kicks ass combating human and child trafficking in Atlanta on a special report partnership with CNN.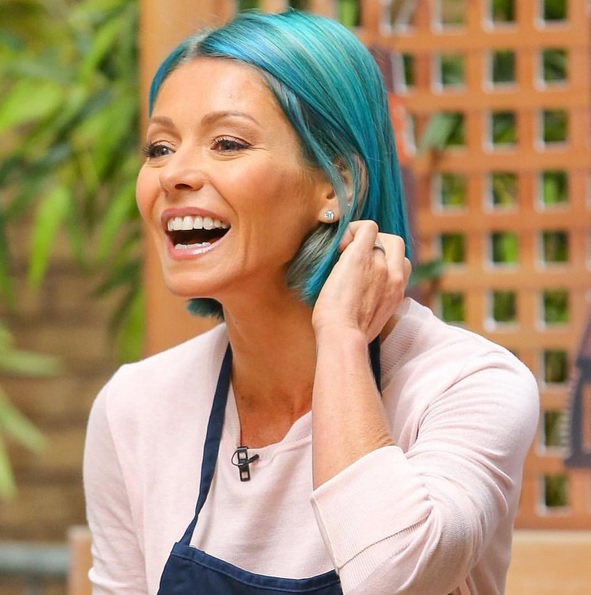 Kelly Ripa with her mermaid blue hair courtesy of celebrity hairstylist Ryan Trygstad
TV host Kelly Ripa also made the hair news rounds recently with her erratic hair color changes. She first dyed it hot pink then tamed it down to a baby pink then suddenly she debuted a shocking mermaid blue color that took four hours to achieve, according to her hairstylist Ryan Trygstad, because it had first turned lime green.  But it was all turned back into her normal blonde self for the Independence Day Weekend but we can't discount that the adventurous Kelly and her ever dependable hair stylist won't be trying on any new out-of-this-world colors soon.
There are certainly enough hair color trends that we can discern from peeking into the lives and manes of our favorite celebrity hair chameleons. But what is in and hot right now when it comes to hair color is making sure that hair stays healthy and damage free and someone thankfully invented the miracle drug for that. Before coloring your hair at a salon, ask your colourist about Olaplex. If they don't know about it, then they should. Olaplex is this new hair repair treatment for people who have damaged hair from all the hair bleach and color they have been using. It's recently getting a lot of buzz in the hair styling community. If you're the type of person with bleach fried hair, this might be a match made in heaven. It basically works by reconnecting the disulfide sulfur bonds in the hair that are broken from the usual culprits of hair damage – hair styling and coloring, chemical treatments, heat and sunlight. It has been created by two bonafide academic chemists, so it all sounds very scientific, nerdy and effective. Let's see if it catches on for sure.
Another hair trend that is currently sported by celebrities is known as ecaille or tortoiseshell hair, which basically means hair that appears sun-kissed, shiny in rich hues and mixtures of caramel, mahogany, chestnut and golden blonde. It's like a less obvious and more natural ombrè progression. As a technique that is quickly catching on, if not by name then by color and style, when you go out and have it done, make sure to have a lot of picture pegs with various tones and hues that you want. Consider your skin tone, ranging to something lighter and more golden if you are on the fairer and paler side and mixing in more ash and auburn elements to the mix if you have olive or darker complexions. Remember to keep the deeper colors at the roots and lighter highlights at the end to achieve that natural sun-kissed color.
In terms of hair color, ombre tips in different shades are favorites with the celebrities,the more adventurous, the better. But the color that everyone seems to the trying on these days is grey. A number of Hollywood A-listers have been seen riding on the grey bandwagon, achieved by either mixing icy blonde with silver or going an all out darker shade of grey (hair color, not fictional billionaire character). The likes of Kate Moss, Kylie Jenner, Rihanna, Lady Gaga, Nicole Ritchie and Kelly Osbourne have been seen with streaks or a head full of grey and silver hair. Even models on the runways of Gareth Pugh, Jean-Paul Gaultier, and Chanel have been seen sashaying down the catwalk in this color. If you want to try this out for yourself, just make sure to talk to a stylist about maintenance as bleaching your hair grey can be especially damaging for your hair.Now we've seen and heard what the celebrities have been styling and sporting their hair with and they may have a busload of expert hair stylists and expensive hair treatments and products. We can't really copy them but we can certainly try because let's face it, celebrities were also born with regular hair, just like the rest of us. They just have the ace with all the perks they have. So what do we need to know to get it?
1. First up – color at home or color at the salon?
If you are going for something more drastic and you've never really colored a strand in your life, it's logic of course to go to a colourist or hairstylist and not try something out of a box. It really depends on what you want. But if you're a newbie to hair coloring and don't really want to spend on a stylist just yet, try doing shades first that are close to your natural hair color. Think pale and subtle highlights. This can be done at home with a non-permanent hair dye that can last you around 8 showers, depending on your hair type.  Try out Clairol Jazzing Temporary Hair Color if you want to try out different colors.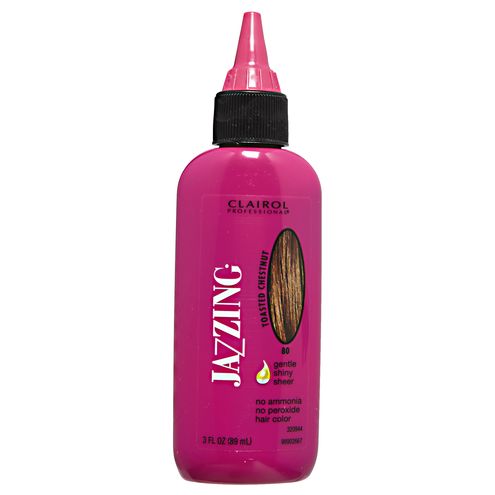 Clairol Jazzing Temporary Hair Color by Clairol Professional
2. How to keep hair color in place and in style
The way to keep colors from fading is to protect them by keeping them inside and in place in your hair. How is this done? First, make sure that your hair doesn't dry out and make your hair brittle by avoiding styling products that have alcohol listed in them. Nothing looks sadder than a mop of color-faded frizzled out hair. To help seal the moisture in and help combat the frizz from all the styling and coloring, try the John Frieda Frizz-Ease Hair Serum.

Hairtrition Color Protecting Shampoo Liter
And most importantly, when it comes to hair color maintenance, make sure to have the color appropriate protective shampoo. There are several in the market that are specific to different hair colors but if you want something that protects hair color all around (in case you have rainbow colors in your hair), try the Hairtriton Color Protecting Shampoo as it can leave the hair feeling silky, manageable and the color comes out a little bit brighter. It comes with a conditioner too, check out Sally Beauty for more products.
3. Making sure that your hair is readying for coloring
Before coloring your hair as well, make sure that you and it are ready. Whether at home or going to the salon for a professional color, it's better to have your hair dyed when it is dirty – meaning its your second day hair. The natural oils in your scalp can help prevent any possible irritations from the hair dye and it will make it easier to section hair and distribute the color.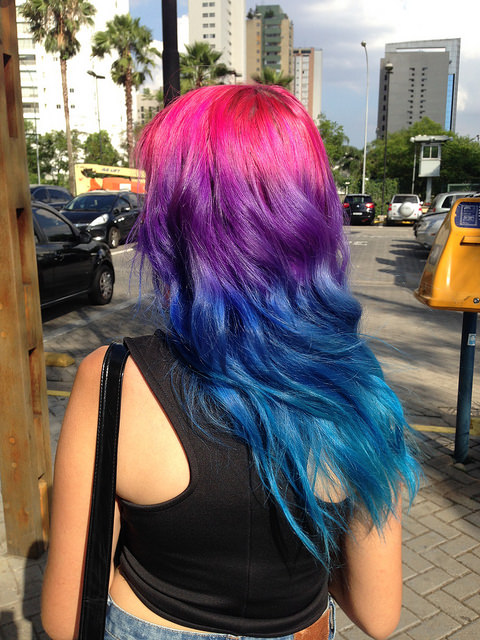 All in all, whether a celebrity or a regular mortal like the rest of us, whatever hair color you choose really depends on you – free spirit, newbie explorer or an ever-changing hair chameleon, your hair should really express your style. So color it up bright and shiny and remember to smile for the cameras!