President Obama launched the Global Entrepreneurship Summit in 2009 as a business exchange platform, connecting global investors with emerging entrepreneurs from Africa. Other than addressing the summit, President Obama's visit to Kenya has created an electrifying mood as the citizens waited in anticipation for #ObamaHomecoming which is currently a trending hashtag on Twitter. President Obama will be in Kenya from the 24th to 26th of July to attend the summit as well as meet with some of Kenya's political leaders.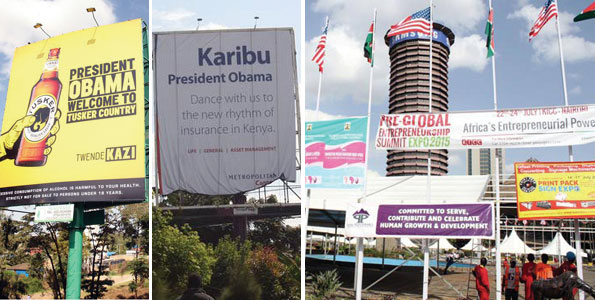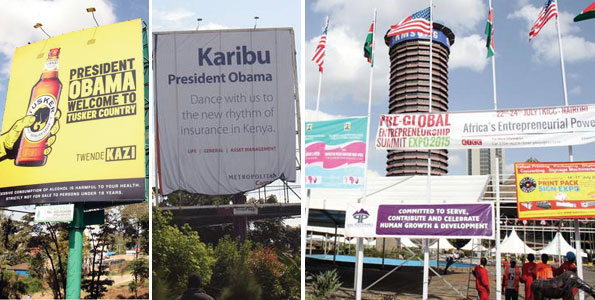 Since its inception, the GES has been held annually and it has connected scores of emerging entrepreneurs with business leaders and governments offering support to entrepreneurs. The first summit was held in Cairo, Egypt followed by Washington, DC, the city of Istanbul in Turkey, Dubai, the city of Kuala Lumpar in Malaysia and in 2014 the city of Marrakech in Morocco. The 2015 summit is being held in Nairobi, Kenya.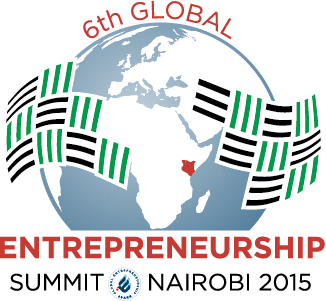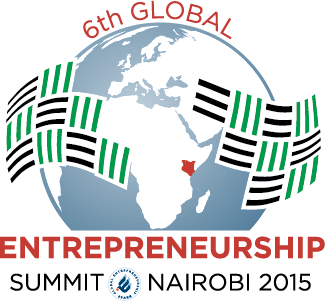 The summit in Nairobi is expected to see new entrepreneurial investments generated focusing on youth and women driven initiatives. The over 3000 participants of the summit will showcase their products as well as have the opportunity to access global markets. Business mentors will also have the opportunity to give back by supporting these businesses. Among the mentors/scheduled speakers at the summit include Shark Tank stars Daymond John, who is behind the globally popular FUBU brand, Dallas Mavericks owner Mark Cuban and Barbara Corcoran.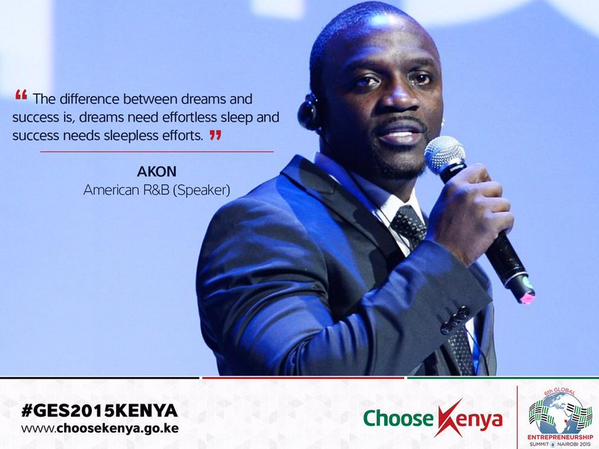 The summit participants will not only potentially get investment and access to global markets, but they will also acquire business skills mentorship. The speakers will touch on financing for start-ups, capital sourcing, opening up trade and expanding networks. The speakers will also talk about intellectual property, attracting private equity and venture capital and intra-regional entrepreneurship.
President Obama has roots in Kenya; with his father Barack Obama Senior hailing from Kenya's Nyanza Province. The people of Kenya have always considered him as 'one of their own,' following his political career right from when he was elected senator and as the incumbent president of the United States of America. On the president's itinerary is to visit his grandmother, Sarah Obama who has also arrived in Nairobi in anticipation of his arrival at 8p.m on Friday the 24th of July.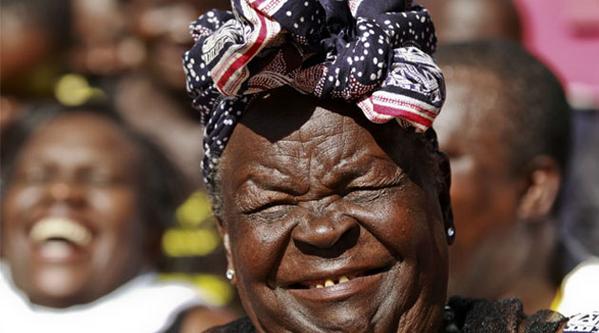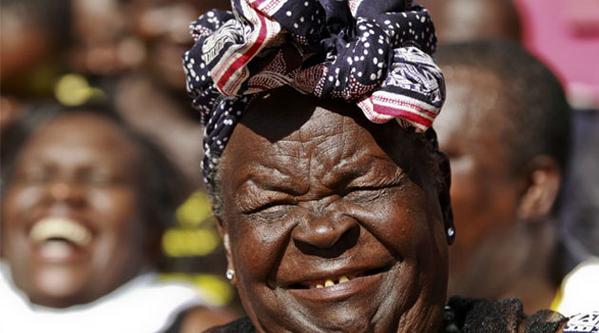 This is the first time Obama is visiting Kenya as president, he had previously visited the country in 2008. However, this time around the kind of reception that he will receive is unmatched. The euphoria going around has been described as 'Obama Mania,' with beautification of segments of Nairobi City with the American flag. 'Matatus,' a public mode of transport in Kenya, have joined in by painting the body of their vehicles with Obama's portrait and semblances of the American flag. Some of the matatus also started donning the American flag during the week.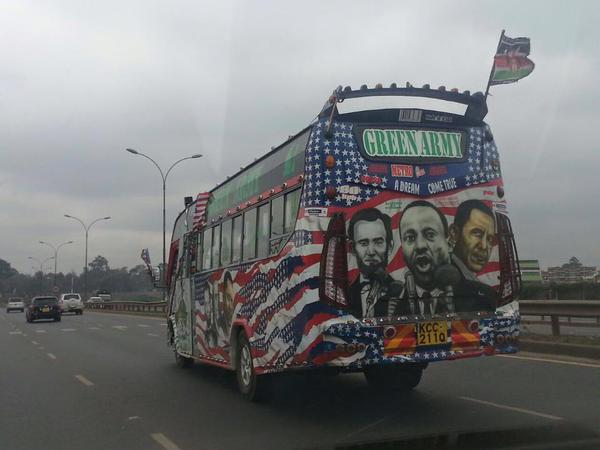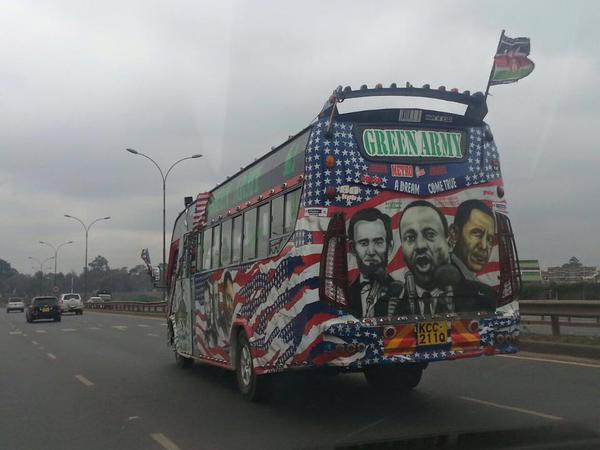 Kenyans on Twitter, referred to as #KOT, are known to be quite the witty lot and memes as well as interesting photos about President Obama's visit started circulating on social media.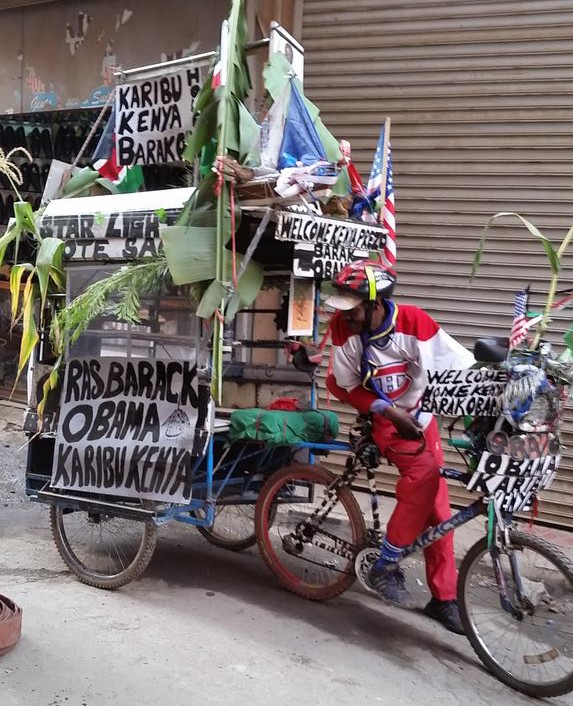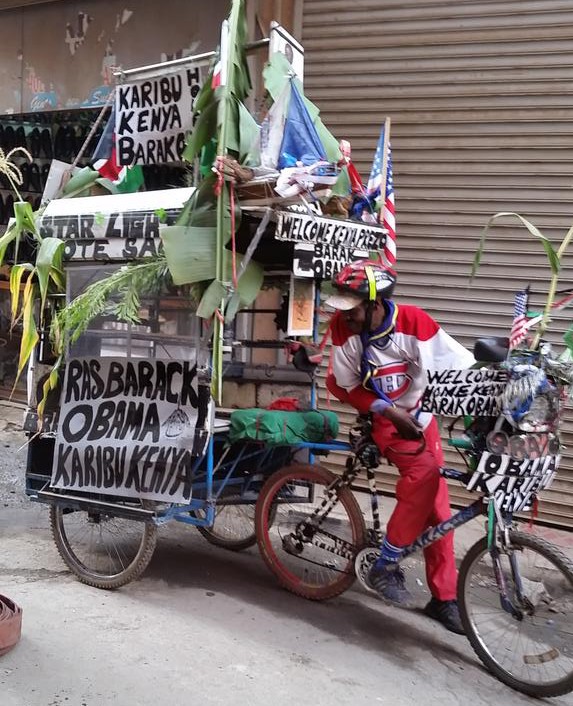 This bicycle 'Boda Boda' rider decked out his bicycle with messages welcoming Obama back to Kenya.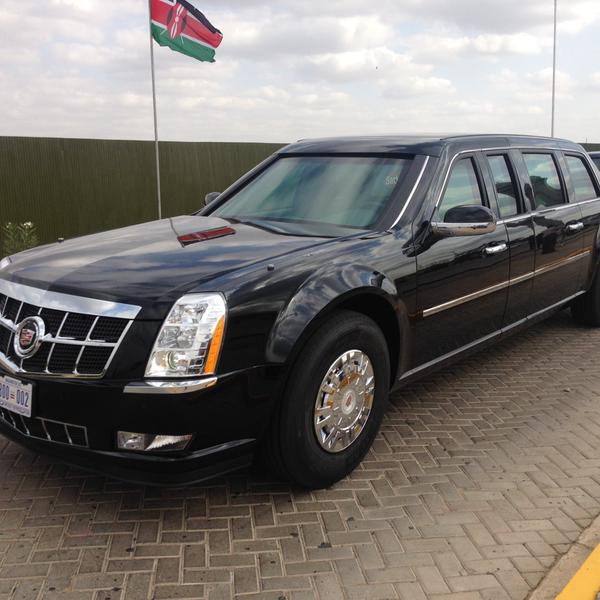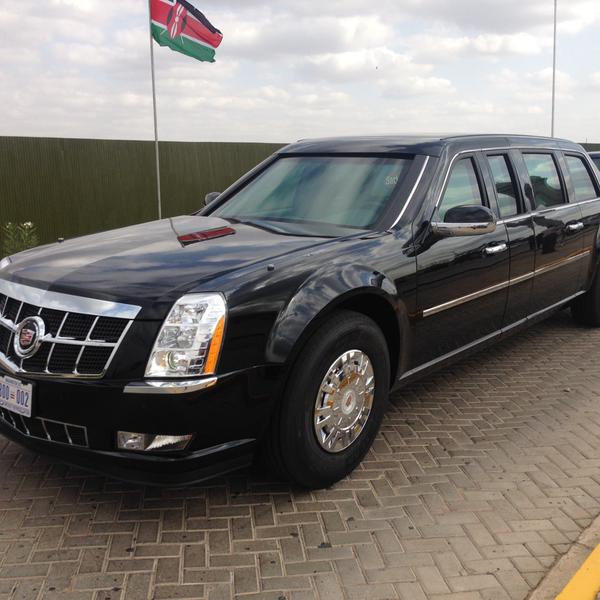 President Obama's mortocade has also been trending since the fleet arrived in the country on the 23rd of July. With Kenyans posting photos of where it was spotted referring to it as 'The Beast.'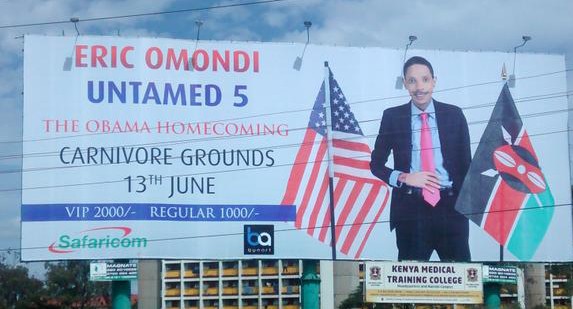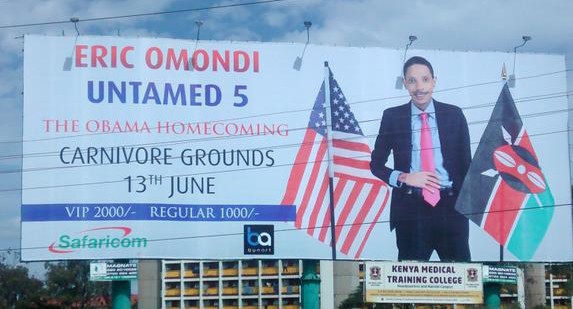 Local comedians also hosted sold out shows, comically depicting what was anticipated of President Obama's homecoming.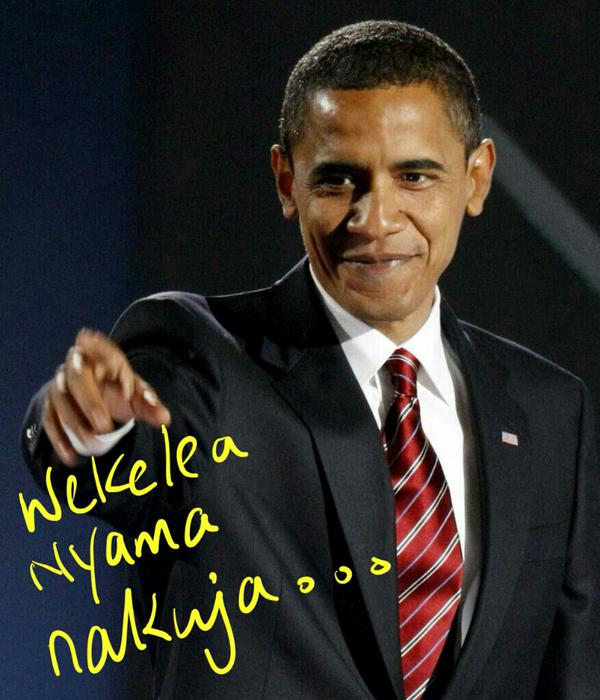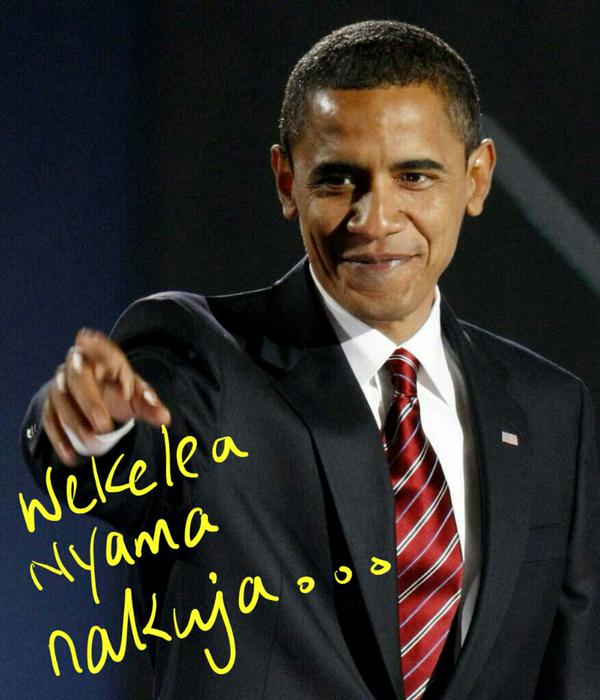 This meme reads 'Keep me some meat, I'm coming for it.' Roasted meat being one of Kenya's long standing delicacies.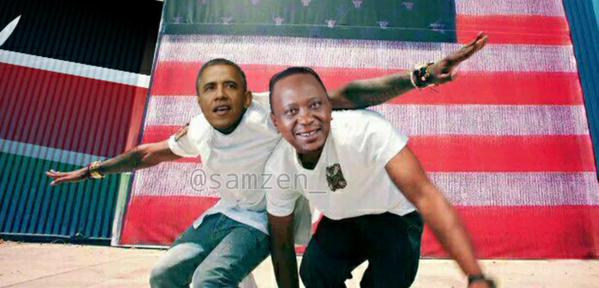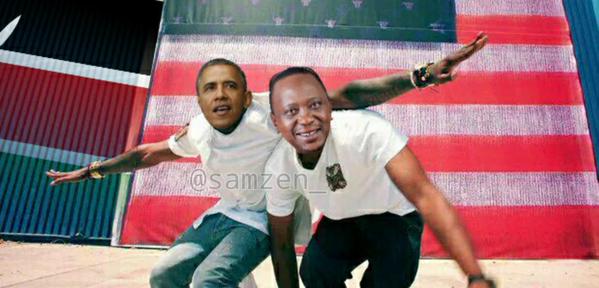 This meme shows President Obama and Kenya's President Uhuru Kenyatta 'having a ball.'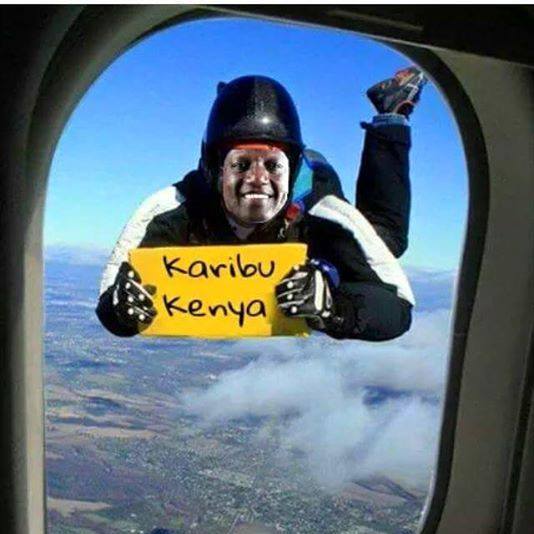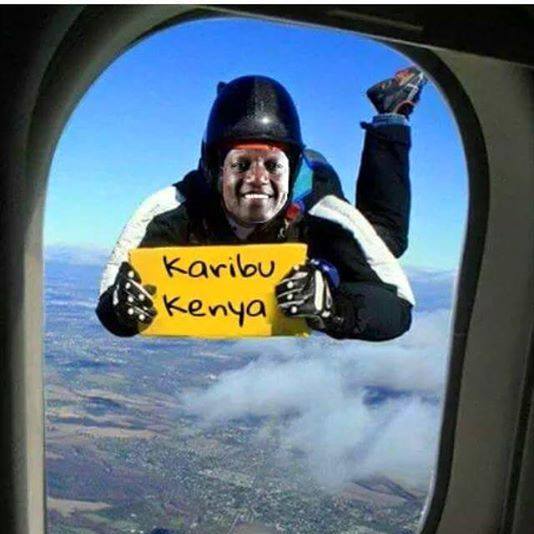 A meme of Kenya's Deputy President William Ruto welcoming Obama to Kenya.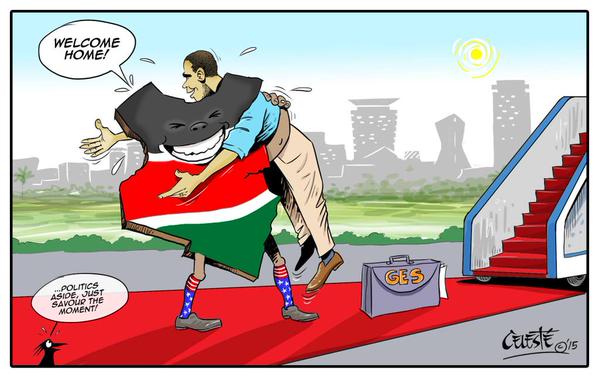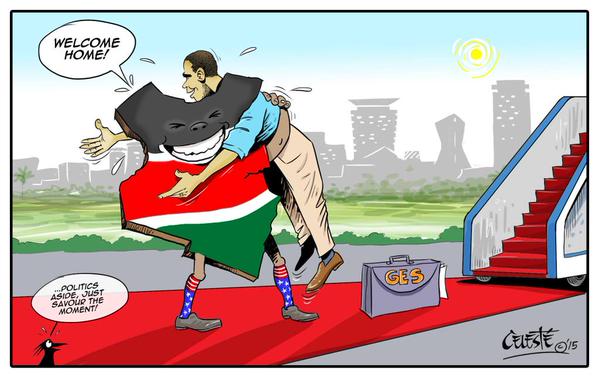 Kenyans did not take lightly to CNN's running a headline reading 'Security Fears As Obama Heads To Terror Hotbed' on the 23rd of July. This followed after details of President Obama's visit itinerary with his time of arrival and departure, which White House later on dismissed. Kenyans once again took to Twitter and the trending #SomeoneTellCNN hashtag came back into play, with Kenyans in every sense calling out CNN for the distasteful headline. CNN is yet to issue an apology or official response, but they have joined in on Twitter hashtags such as #ObamaInKenya.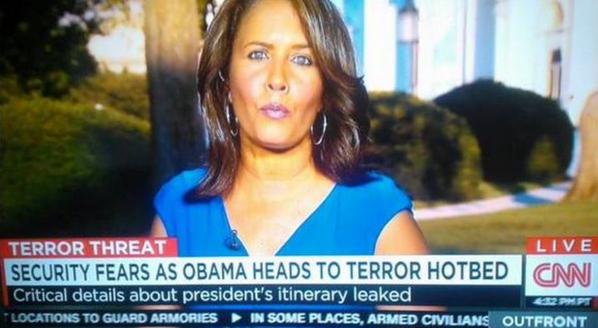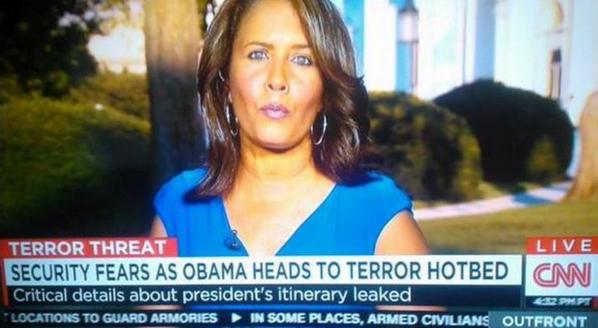 Kenyans have also not been too happy with the Nairobi Governor, Dr. Evans Kidero, who authorized beautification of the city using tax payers' money. A majority felt that it was wasteful to use money on beautifying sidewalks and roundabouts on roads when this money could have been used on pressing issues. Yet again Kenyans took to Twitter using the hashtag #KideroGrass to air their grievances. Kenyans were also not too pleased with what most saw as a loss of revenue over Friday the 2th of July. Most businesses and organizations declared it a holiday for their staff, because of anticipated traffic and the announced closure of major roads ahead of President Obama's arrival later that evening.
On the flipside, Kenya's Hotel and Tourism industry are reporting a boost in business starting from the 2 weeks leading to President Obama's visit. The GES has not only attracted entrepreneurs, but also global journalists as well as tourists who simply saw it as a good enough time to visit the country. At least 10 business magnates who held a group face-to-face meeting with Kenya's President Uhuru Kenyatta reportedly agreed to pump in billions in dollars towards various investments. They include Sir Richard Brandson, TED Conference curator Chris Anderson, Econet Wireless founder Strive Masiyiwa, Acumen CEO Jacqueline Novogratz, Draper Fisher Jurveston's Steve Juverston, Capricon Investment's Dipender Saluja, Rockefeller Foundation's Zia Khan and Virgin Unite CEO Jean Oelwang. They expressed interest in investing in the telecommunications, energy, business and agriculture sectors.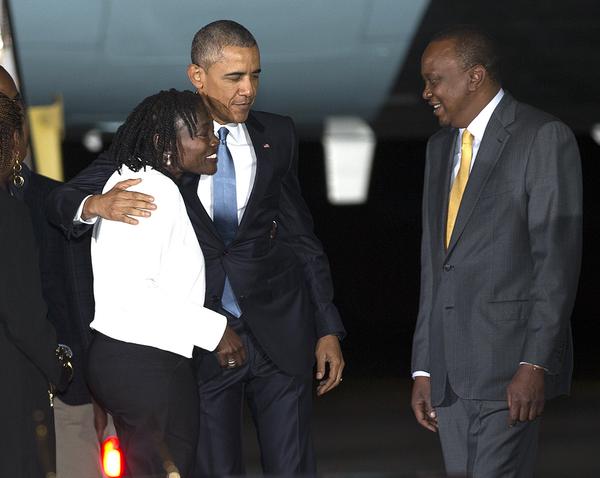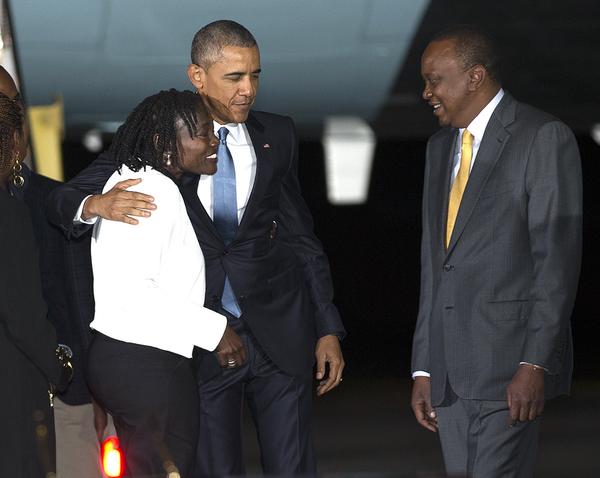 President Uhuru Kenyatta and President Obama's sister , Auma Obama, welcome President Obama upon his arrival to Kenya in the evening of July 24th.
Besides the summit activities and meetings scheduled, President Obama's itinerary includes a public address to be held at Nairobi's Kasarani Gymnasium on Sunday the 26th of July. However, the public address is by invite only. The president will then visit Kenya's Kenyatta University for a brief session with the institution's management and students. He is then expected to leave for Addis Ababa, Ethiopia later in the afternoon.