Most of us wear our hair in the same style for years on end, particularly if you wear your wear your hair natural. It is time to end that streak and step out into a world of new hairstyles. To help you get started on selecting your next hairstyle, here are some celebrity inspired natural hairstyles.
Samira Wiley's Close Cropped Look
Steal the close cropped look from Orange is the New Black star Samira Wiley. This is an ideal look for anyone who already keeps their hair short or for someone who wants to go for a shorter do.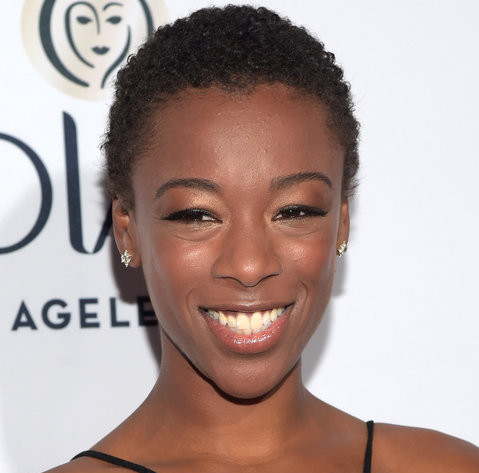 This low maintenance style will be a great breather from high fuss hairstyles. To keep it looking sleek and bouncy use a good nourishing cream.
Zoe Kravitz's Long Plaits
If you need to give your hair some much deserved break from manipulative hairstyles, try out long plaits inspired by Zoe Kravitz.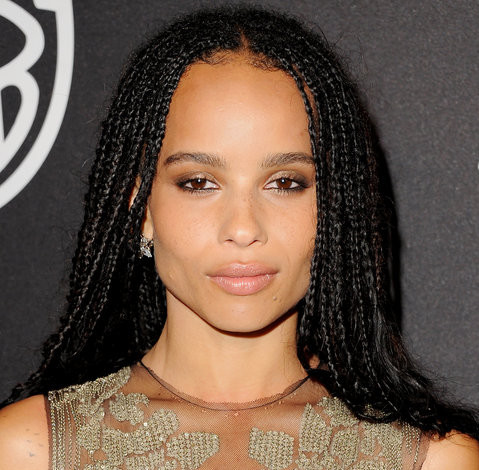 Plaits allow your hair to keep growing underneath and have a minimal-fuss versatile look to work with. You can easily style long plaits into different looks such as ponytails, buns and also diverse braided looks.
Lupita Nyongo's Faux Mohawk
Want to try out a daring look with no commitments, then consider going for Lupita Nyongo's faux Mohawk hairstyle.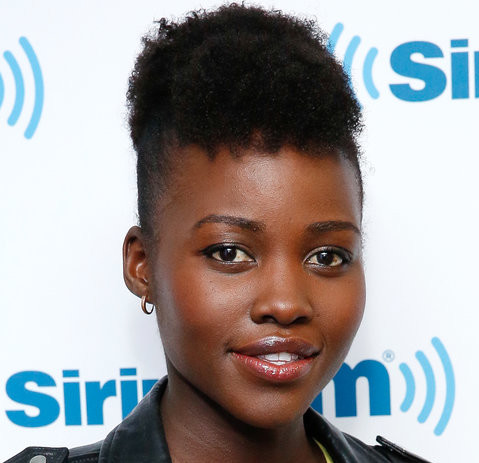 This is a style you can pull off on both short and long hair, with the use of some bobby pins and a bristle brush.
Skai Jackson's Half-Up Half-down Look
The half-up half-down look is in trend and you can jump on board by channeling Skai Jackson's top knot look. This is a good look to style on mid-length to long hair.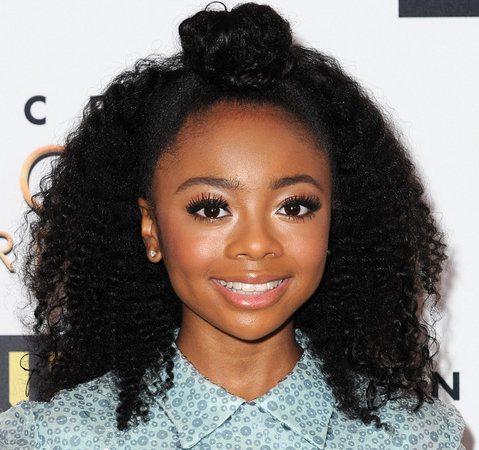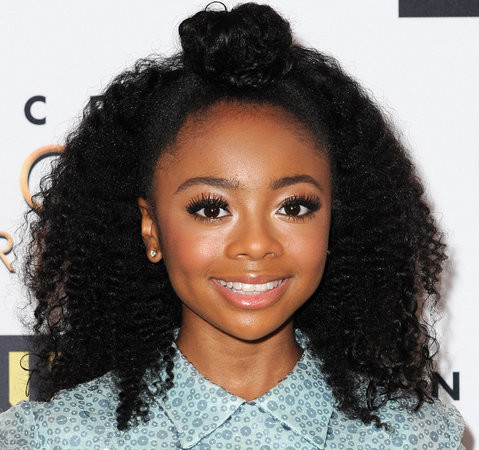 The key to pulling off this style on natural hair is to use a good 'friendly' hair tie that won't damage the hair.
Tracee Ellis Ross's Bangs
Bangs add a glamorous touch to a hair do and you can borrow a leaf from Tracee Ellis Ross's bangs. The brow-lenghth bangs add a dramatic touch to this look.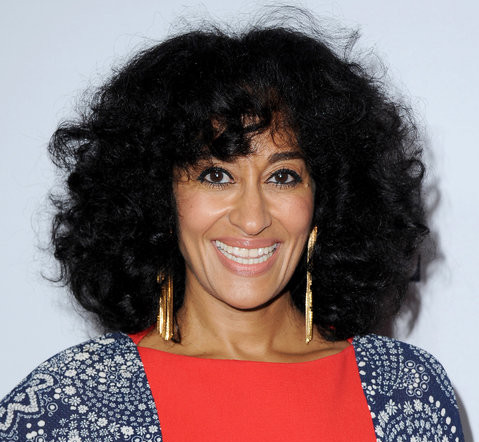 For an added glamorous look, wear this look in soft  curls.
Kimberly Elisa's Mid-length Curls
Kimberly Elisa's mid-length curls is yet another celebrity inspired natural hairstyle inspiration. The acclaimed actress often spots natural dos on the Red Carpet and ever so glamorously.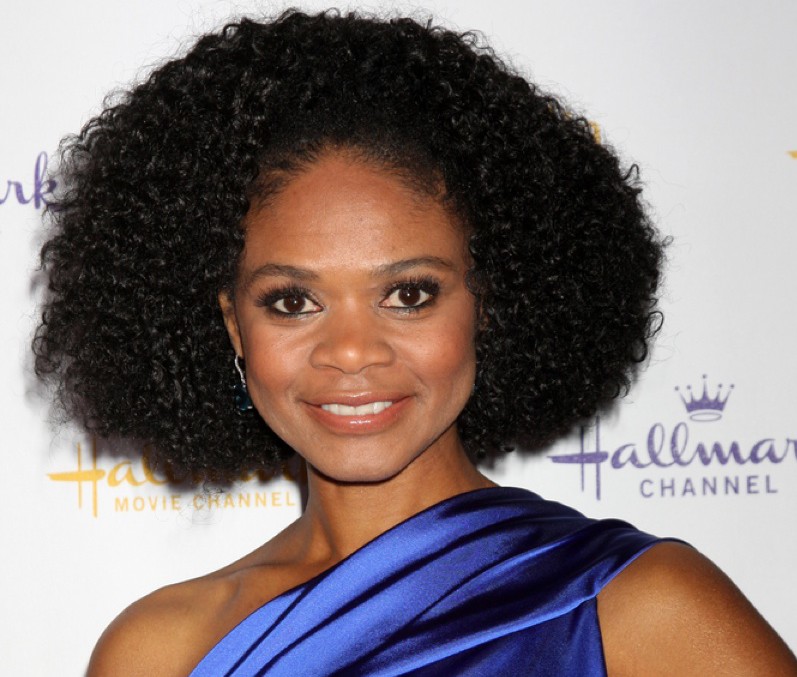 To keep this voluminous look bouncy make use of a good volumizing spray.
Teyonah Parris's Asymmetrical Natural Look
Teyonah Parris spots quite the voluminous mane of natural hair. One of the looks she donned and we absolutely love is an asymmetrical natural look. She wore the look with a deep side part and complete with fluffy curls.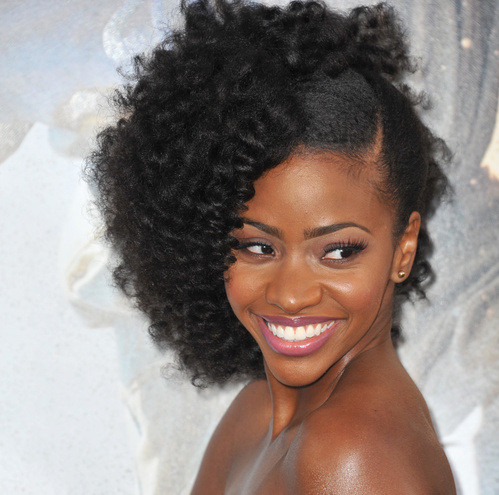 This is an ideal style for an evening event or if you simply want to dress up your natural locks.
Naomi Campbell's Spiral Curls
Naomi Campbell loves long looks, but she had spotted a spiral curl Afro that was memorable. She kept her voluminous look simple by wearing it in a black hue.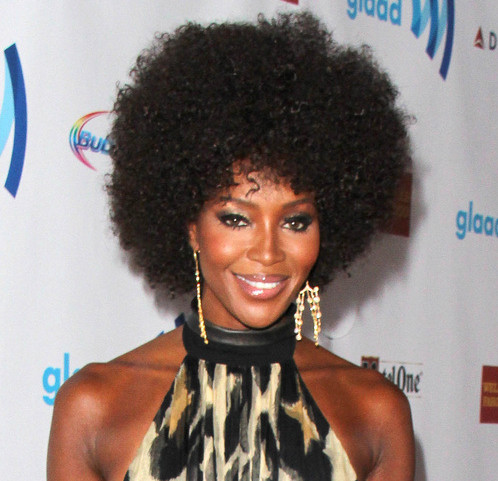 This fun and flirtatious look makes for a refreshing change particularly if you wear your natural hair in a signature style.
Janelle Monae's French Knot
Janelle Monae offers a host of inspiration when it comes to natural hairstyles. She is known to switching it up and one of her memorable natural dos was the French knot she spotted a while back.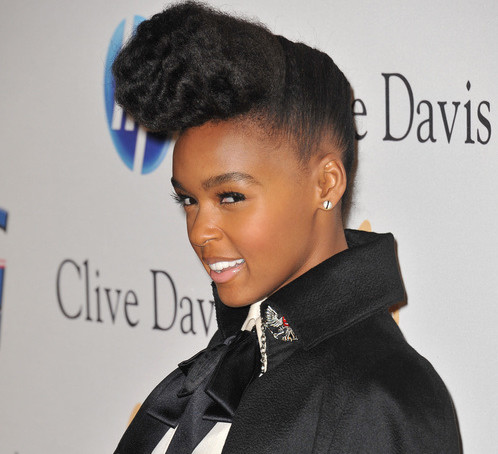 This creative and eye-catching look make for a perfect choice for a special event or a great look if you are simply looking for an edgy look.
Yaya DaCosta's Textured Updo
Yaya DaCosta has spotted a large afro, which looks amazing on her. However, she proves that an undo can be equally as sophisticated, trendy and swanky on voluminous natural hair.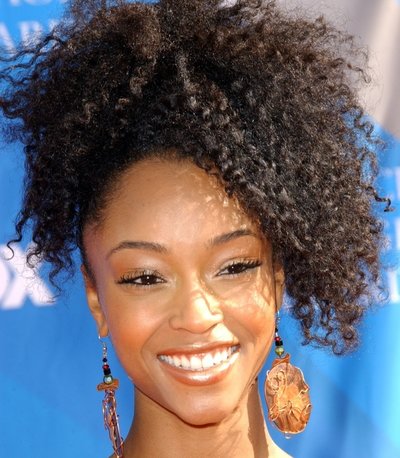 Wear this fun and easy hairstyle as an everyday look, and the best thing about this hairstyle is that you can dress it up or down as you wish.
Viola Davis's Grown Out Fro
Viola Davis has been stunning with natural dos on red carpets ever since she debuted her natural hair on How to Get Away with Murder. One of her natural looks we love is the 'Grown Out Fro' look she spotted at last year's Screen Actor's Guild Awards.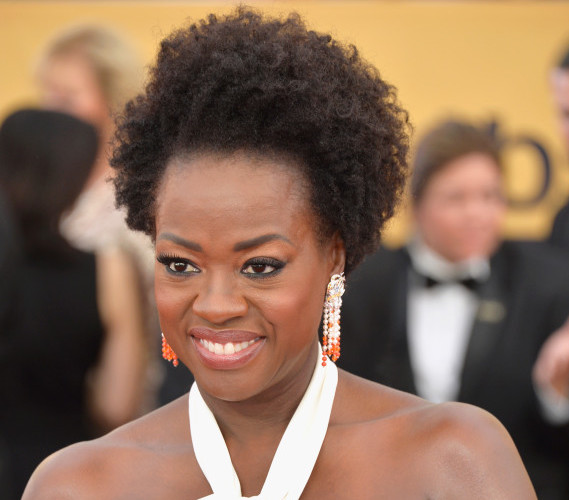 This is a wonderful look to show off your grown out tresses, and even with longer hair you can still rock this look.
Tamera Mowry-Housley's Natural Curls
Tamera Mowry-Housely is yet another celebrity who doesn't shy away from trying out different hairstyles. However, her natural curly locks in one of the looks we love on her.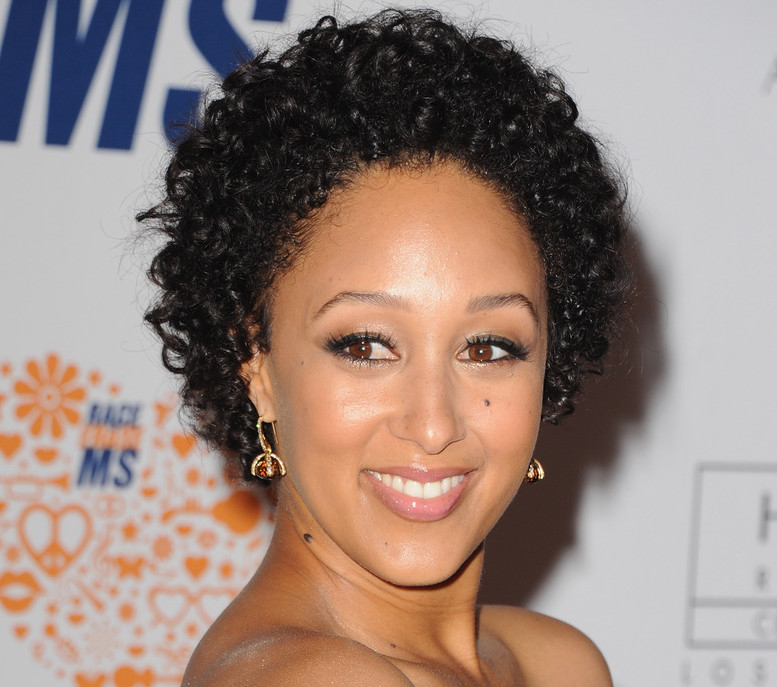 Curls provide an instant way to dress up your natural locks.
Esperanza Spalding's Large Rounded Fro
Jazz singer Esperanza Spalding has been a naturalista all her life. She is quoted to have said that her mother "didn't believe in relaxers, and vowed never to put lye on her child's scalp." She also says that she had never relaxed her hair and never will.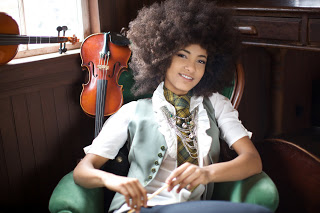 Embrace your long locks by wearing them in a large rounded fro similar to Esperanza Spalding's fro.
Thandie Newton's Lopsided Top Knot
Thandie Newton, who is another celebrity naturalista, proves that you can get a sophisticated and gorgeous look by wearing your natural hair in a top knot. She wore her top knot in a bit of a lopsided look.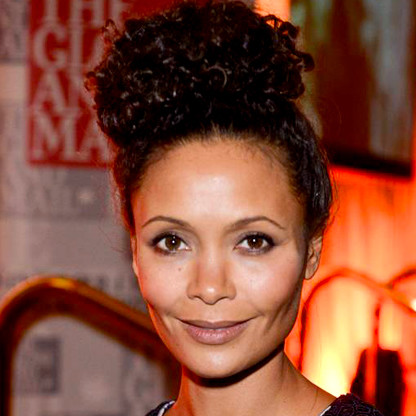 Take this look a notch higher aiming for a romantic look by letting down a few loose ringlets.
Shingai Shoniwa's Wild Double Updo
The Noisettes' lead singer can not only belt out quite the tune, but she also does have an enviable mane of natural hair. She also does like switching it up when it comes to her hair looks, and she does so ever so glamorously. One of the styles she's worn and we like is the double updo.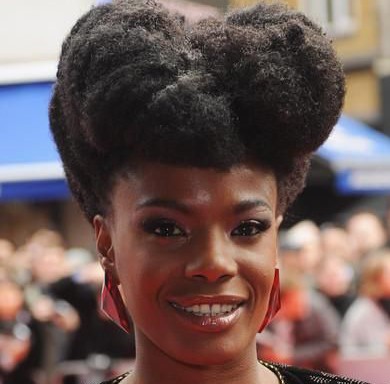 This is a look that you can replicate right at home if you have a voluminous mane of hair.