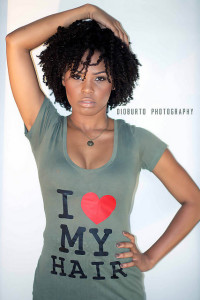 When it comes to looks and fashion, the bottom line is always coming up with a great pairing. What pants and top to match with your favorite Chucks, what color-popping hot clutch to bring with your little black dress, or what boyfriend shirt to combine with your favorite pair of skinny jeans or leggings.
Yes, we think that way for fashion but at a more basic level, it also speaks true for hairstyles. You might think of this as celebrities mix and match their hairstyles with whatever they are wearing for that certain awards show but on an every day basic level, we also need to find out what best hairstyle, cut and regimen works best for us overall.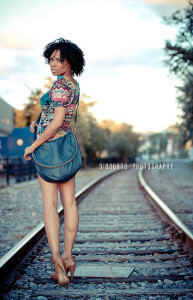 The most important feature to match will of course be your face! Your face, its shape and features, will play a crucial role in determining whether a hairstyle will suit you or not. You will have to consider the angles and symmetry of a person's face to find the perfect hairstyle, with the overall objective of highlighting the positive features in one's face while minimizing and distracting from the non-pleasing ones.
You might ask – how important is this? Well, without considering proper face shape and analysis, even the most well-executed haircut and styling will not look as good on someone versus a haircut that suits a person's face exactly. It is a lot like fashion – even the most expensive designer dress will look ridiculous if worn by a person with the wrong body type.
Another thing to factor in is what kind of hair you have. We all have different hair types and hair textures so consulting your own hairstylist would be best in finding out what's suitable for your face. Hairstylists are trained to know which hair style would best fit you. So the next time you visit the hair salon for a trim, come in your natural every-day-hair so that your hairstylist will see how your hair normally looks and he or she can ascertain the correct style for you based on your hair type and texture.
In summary, when considering a new hairstyle that will best suit you, consult with your hairstylist and factor in those two things: knowing your correct hair type and texture, as well as working with your face's shape and features.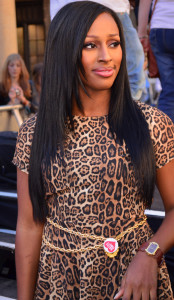 KNOW YOUR HAIR TYPE OR HAIR TEXTURE

Is your hair coarse, frizzy, curly, straight, wavy or fine? What's funny about hair is that girls are forever complaining about it, especially about their hair type. If they have curly hair, they wished it were straight. If it was fine, they wanted it wavy and curly. The key is accepting your natural hair as it is and working with that, because trying to change it might lead to disastrous results – unless you have a really great stylist who knows what they are doing!
Girls with coarse and dry hair (which might also come in as curly) will need to go for longer hairstyles that can weigh your hair down and lessen the frizz and fluff. You don't want your hair puffed up and going all over the place – unless you have the kind of face to suit it, like oval-shaped faces, which basically looks good with any cut. The secret to frizzy hair is good conditioning to make for softer waves. Remember to use hair conditioner after every shampoo.
At the opposite side of the spectrum, go for short if you have fine hair. This type of hair texture tends to look limp and lifeless, and the thinner hair strands can also contribute to having an oily hair, as there is less hair to absorb the production of oils from the scalp or even from hair products. If you do have fine and oily hair, consider getting a hair treatment then go for a shorter cut with layers to make it look fuller and have more body.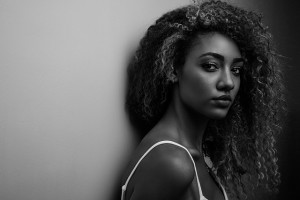 To find out what kind of hair texture you have (your hairstylist should be able to figure this out by touching it and seeing how it moves), just grab a section of your hair and see how it falls when you let go. If it tends to fall straight down and flat against your face, you have finely textured hair. If you let go and it tends to be poufy and sticks out away from your face, you have thick textured hair. Those in between will have medium hair texture.
Analyze Your Face Shape and Facial Features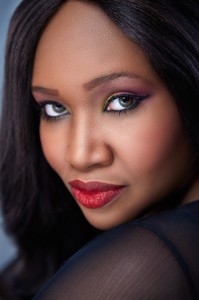 When it comes to face shape, the objective is balancing the features to create a perfect symmetry of the face in the shape of an oval, which is the most pleasing face shape to the human eye. In other words, if you have a square face, you need to soften up the edges and if you have a long face, you need to make it look shorter. Facial features can also play a role in your hairstyle and cut. Consider side-swept bangs if you want to emphasize great eyes. Short bangs and close-cropped hair works great on women with prominent cheekbones, especially if their faces are more angular rather than rounded.
There are 6 general face shapes that you can classify yourself into. You can try to determine your own face shape by taking a photo of yourself, exposing your face by making sure your hair is not in the way, then matching it with any one of these face shapes: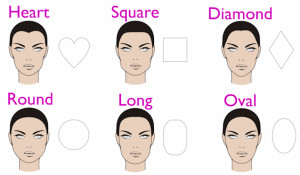 1. Heart-Shaped face – when you have a wide forehead and cheekbones while your face narrows down at the jawline area, then you have more of a heart-shaped face. Avoid haircuts that end or point towards your chin, as this can emphasize narrowness more. Go for longer, textured lengths. This would go well with wavy or curly hair. To balance out the wide forehead, try out some side-swept bangs to soften your look, but don't go for heavy or full bangs as this will make your face look heavier there and will diminish your chin area.
2. Square face – this shape has a strong angular jaw and wide forehead, and you can use texture in your hair to help soften up your features. Try for short and mid-length tapered hair, with texture created through soft layers. Curls and wispy bangs can look great on this kind of face. Avoid styles that do not soften your face like blunt bangs or cuts that are straight and end near or at your jaw, as these can make your face appear squarer.
3. Diamond face – these are when both your forehead and chin can be pointed and narrow while your cheeks and cheekbones are more prominent. The thing to remember here is that too much hair can make the face look too narrow. Bangs aren't really recommended but if you want to go that way, go for longer length bangs that start back further on the head. Try also side parting your hair and putting in layers to open up the face.
4. Round face – these are the softer, fuller shapes where the length of your face is almost equal to its width, creating that circular shape. To balance it out, you need to elongate your face through a longer length of hair. If you have straight hair, have your stylist create layers and uneven cuts through some long or side-swept bangs to get a mix of lengths. This will make you round face appear slimmer. To make a center part work on a round face, the length has to be a bit past your shoulders with added layers that work up to your jawline.
5. Long face – long faces need their hair to address the lack of width in their face and create that balance. So the key here is to make sure your hair has volume on the sides. There are numerous styles available to you, like bobs and short to medium length styles that would work best when wavy or curly. Avoid longer lengths as these can make your face appear too vertical.
6. Oval face – you have this kind of face shape if your forehead and jaw are usually the same width and the width of your face is slightly wider than it is longer, creating a soft, attractive face shape. This shape basically works with any cut and you can experiment and just consider other factors like the texture of your hair or facial features that you'd want to emphasize or play up.