Scarves – if you don't know how much of a fashionable accessory it is today, the image you would probably have of scarves is that of your doddering Aunt May wearing one over a boring shapeless black pea coat or maybe a slightly more glamorous yet dated image of an old Hollywood starlet flickering around and wearing one knotted around her hair to keep her hair from flying all over the place. Well, scarves are definitely found in antiquity but the trend of using it to accessorize everything and anything is still very much alive.
Scarves can be traced back to ancient Egypt when Queen Nefertiti wore a finely woven scarf underneath her conical headdress. Nefertiti is one of the most famous women in the ancient world and has become an icon of feminine beauty known through the work of the sculptor Thutmose, where a highly preserved bust shows her finely crafted facial features in timeless beauty.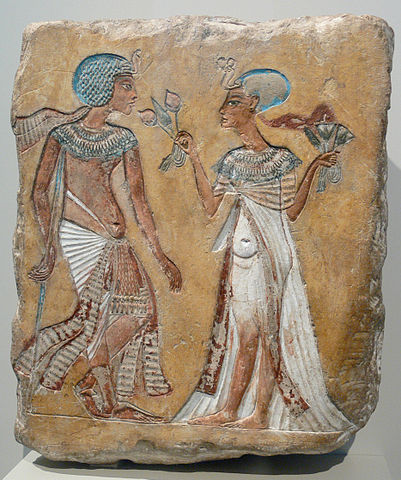 Throughout history, the scarf can be seen making numerous appearances, being worn by Chinese emperors and Croatian mercenaries, from Romans and to Frenchmen. It was seen knotted around the neck, used as belts around the waist, and worn as a headband across the forehead. It has been a sign of fashion and trends and during Queen Victoria's time, the use of scarves as an accessory spelled the difference in telling if someone was part of the upper, middle or lower class. During the age of chivalry in the 1800s, a lady could bestow a scarf or handkerchief to a knight as a token of her favor to be worn during tournaments. Then in 1837, Hermes was founded, followed in 1856, by Burberry, maker of the iconic plaid scarf. Hermes released its first scarf design in 1937 and since then, have been patronized by the likes of Audrey Hepburn, Jackie O, Princess Grace of Monaco and even Queen Elizabeth. Scarves as a must-have accessory had its foot cemented firmly in the wardrobes of fashionable men and women all over the world.
Today, scarves are solidly part of one's fashion ensemble and the reason it has never really gone out of style since its antique beginnings is simply because it has evolved over the centuries and decades with its many versatile uses.
As a fashion accessory, a scarf can be used at almost any part of the body. Its main uses are that for wearing around the head, either decorative or functional to keep hair in place; it is also commonly worn around the neck, especially in winter countries, as it creates an added layer of heat and protection from the cold weather. Beyond that, it is really up to any style patron to best figure out his or her own use of the scarf. Use it as a headband or a wrist band, it's really up to you.
Below are some of the uses for scarves other than as a neck scarf or a headscarf:
AS A BELT
For a boho-chic look, make a thin scarf into a belt by looping it around your pants' belt loops. To make fold it over, just do the following steps: spread a thin scarf flat in a diamond shape. Take the bottom tip, fold it over across the middle, and take the top flap and fold it over as well so that the two points overlap. Just keep folding over the two sides until you come up with a thin horizontal belt. Voila! Instant spot of style! This can also work for corporate-looking office attires, adding a touch of casual to help soften up something like a stiff button up shirt. As an option to the belt loops, you can also tie it around the waist around the shirt itself. By tying it around the waist, instead of the lower at the hips, it can help accentuate your figure.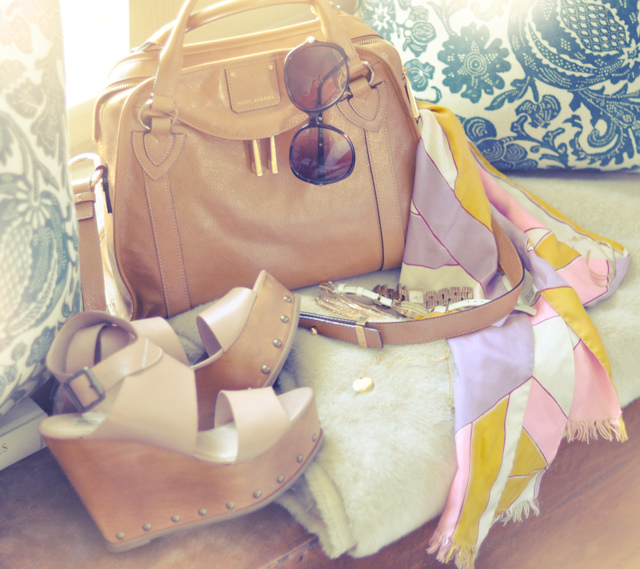 AS A BAG CANDY
Another fashionable use of scarves seen in this century is using it as part of a bag accessory. To add a pop of color to an otherwise solidly colored bag, tie a brightly printed scarf at the base of your bag handle and draping it over the front side of your bag. Similar to the belt, fold a square scarf from its diamond shape until its top and bottom points reach the middle, then roll each side until they meet in the middle. Drape that over the bag handle, making sure of it gets halved equally and loop ends over each to make a knot when pulled tight. Another type of scarf released by Hermes later on that has become fashionable for bags is the Twilly – named so for the weaving technique that produces a long and narrow piece of silk that is both strong and beautifully designed. One of its known uses is as a wraparound on the handles of a Hermes Birkin or Kelly. It not only protects the bag from dirt, grease and sweat from your hand but it can also change the look of the bag, either to create an additional tone with a matching palette or make a statement with a color that is contrasting to the bag. To tie, knot a Twilly scarf at the base of one bag handle, leaving a small tail know facing out. Wrap it around the handle, making it flat as possible and overlapping each layer so that no insides will peek through. When you reach the end of the other handle, pass the tail of the scarf through the last wrap and pull tight, making an identical tail at the other end.
AS A WRIST BRACELET
For a slight touch of rebel and rock married with a whole lot of style, try wrapping your own wrist with a thin silk scarf to act as a wrist bracelet. Scarves are usually printed in bright and vibrant colors with elaborate designs so it can spruce up any outfit. Use only small or thin scarves for this one and just tie it around your wrist. You can also add a little more effect to this by doing a DIY and combining it with a large chain. Just weave the scarf through the chain and wrap and tie the ends tightly to secure. It just leaves wrapping around the wrist and you're all set.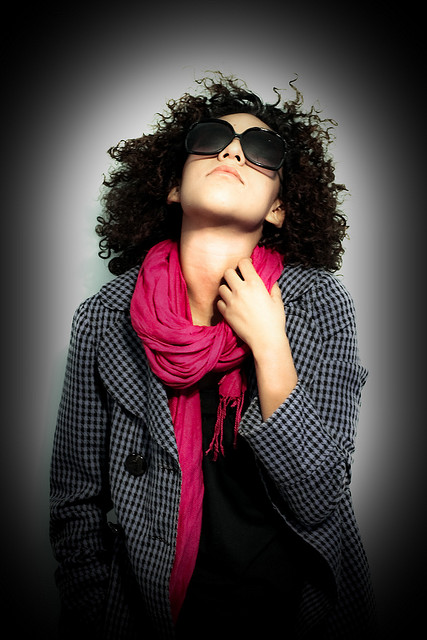 THE MANY WAYS TO WEAR A NECK SCARF
With the many versatile uses of scarves as belts, wrist bracelets and bag accessories, it should be of no surprise that there are literally more than a dozen ways to tie a scarf around your neck. Here are some tried and true favorites that can make you feel instantly fashionable and trendy:
The traditional hacking knot is made for scarves that are a bit on the longer side, this is one of the most common ways of tying a scarf – also because it's very easy. Just fold your scarf in half so that you have the two tails in one hand and the looped end in the other. Twist it a little bit, then wrap it around your neck and pass the two tails through the looped end and pull through to create a loose knot that can be placed over any top or jacket. To vary the look, you can also do a double knot by tying a loose knot in front of your chest. Tighten it by pulling together a second knot and it should dangle loosely from your neck.
Another type of scarf style is a modified ascot. Look for a square silk scarf and fold it in half to form a large triangle. Drape the center downward point at the back and bring the two end tails over your shoulders and tie those two together in a double knot near your neck. You now have an ascot style scarf and for a little more oomph, put the knot on the side and pair up the scarf with a light sweater for a look and feel that is very French.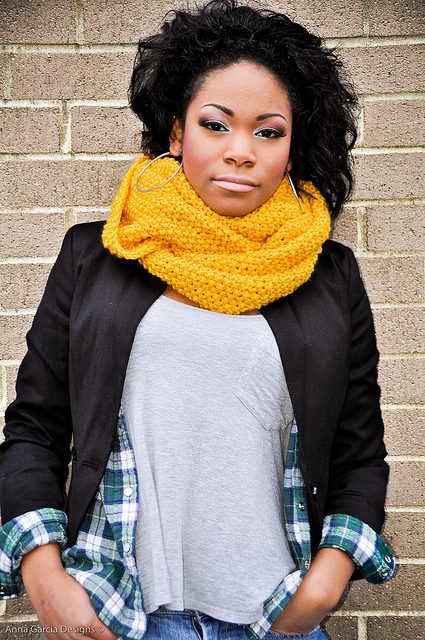 One other scarf style is called the infinity scarf. It's actually a round circle of a scarf with no ends. You can purchase something like that here at scarves.net or make your own DIY infinity scarf. For something a little quicker, try the faux-infinity scarf. Tie the two tail ends of a long scarf, creating a big loop. Place the scarf over yourself, with the knot at the back of the neck then do a second loop. Put that also around your neck, adjusting it at the back so that the knot is not seen.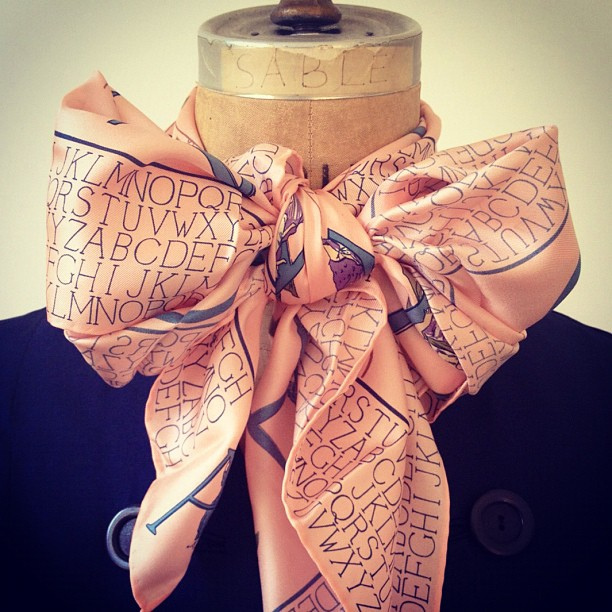 For something a little bit more girly and preppy, try creating a bow. Just wrap a silk scarf around your neck and tie it loosely around your collarbone. Then just tie it like shoe laces to make a big floppy ribbon and adjust it to either the center or off at the side. Pair this with an open cardigan or blazer.  For another easy look for your scarf, you can just also drape the two ends on their side underneath the lapels of your blazer to create a more chic look and feel. In summary, when it comes to tying up different styles, it really depends on the length of the scarves. You can experiment with different styles and different fabric types like silk, cotton, pashmina, linen, cashmere, chiffon, wool, satin, alpaca, jersey, etc.
USING SCARVES WITH AND FOR YOUR HAIR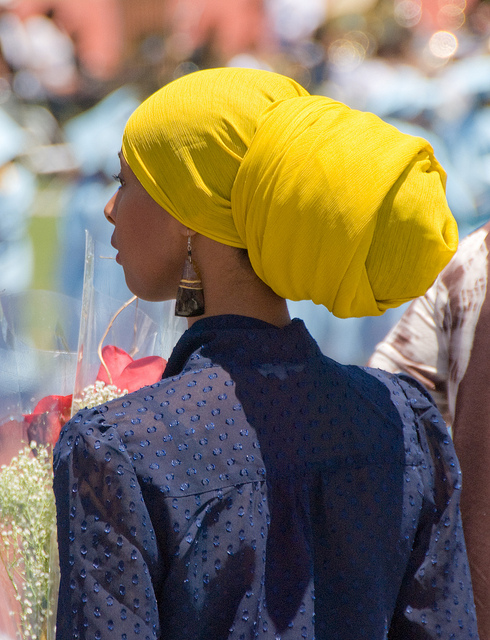 When it comes to using scarves for your hair, its uses definitely goes beyond beauty and decoration to something more functional and beneficial for your hair. A hair scarf should be part and parcel of any woman's hair care regimen as it can help support healthy hair at night, especially if you have long hair. It can keep it free from tangles that happen when you toss and turn during the night. If you have curly hair or a certain hairstyle that you want to protect, it's also best to tie a head scarf around your hair for the night. Sleeping without a head scarf can also cause breakage due to friction from the hair rubbing on cotton or linen fabrics of your pillow case and bed sheets. This can also cause dryness as these fabrics can also pull the moisture from your hair. The best material to use for a hair scarf would be silk as it is not very porous and does not absorb moisture from your hair, but if its too expensive, try a satin or polyester alternative. Make sure to not wear it too tight since you'll be wearing it through the night and to brush out your hair before you get settled down at night so that the natural oils from your hair can be brushed down from your scalp and hair roots to the end. Using a hair scarf is not just for women with long hair. It is protective so it can also work for those with shorter hair. If you are not comfortable using a hair scarf, you can also try a satin pillowcase, just to reduce the breakage and drying out of your hair.
Other than protection, scarves for hair of course are also used for its ultimate fashion benefit. Matched with great hair texture and color and you have yourself a fantastic and unique hairstyle. And the great thing about using a scarf for your hair is that is can not only save you from bad hair days (it can certainly cover up or help tame any unruly hair) but it's a lot of gentle on your hair and scalp versus other hair accessories that apply more tension and can cause hair breakage and leave bad hair marks behind.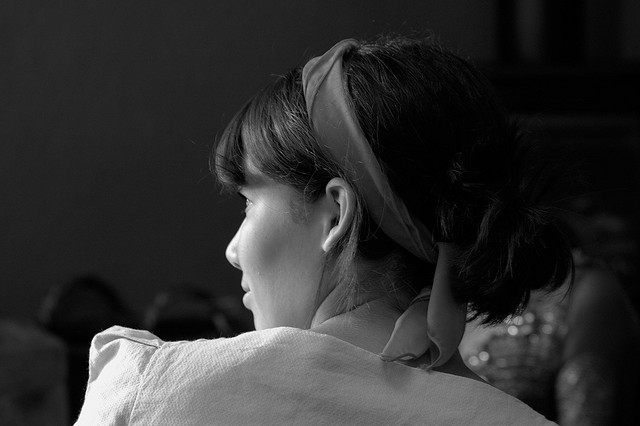 Make a simple hand band with a thin scarf by spreading it out then rolling it so that you have a nice long strip. To make a hairdo more fantastic, try matching this with a bun updo, wrap the scarf strip around that by positioning the center of the scarf at the back of your hair and wrapping it around and crisscrossing the two points in front. Wrap the ends again to the back of your head and tie it there to secure the band in place. Slip any loose ends into the band to hide it.
For something more hippie, create an indention in your scarf by using a small clear elastic. Fold the scarf in half to find the center, run the scarf through the clear elastic band then wrap that whole thing on the top of your head along the hairline. Tie the ends underneath your hair and you got yourself a hippie and timeless look.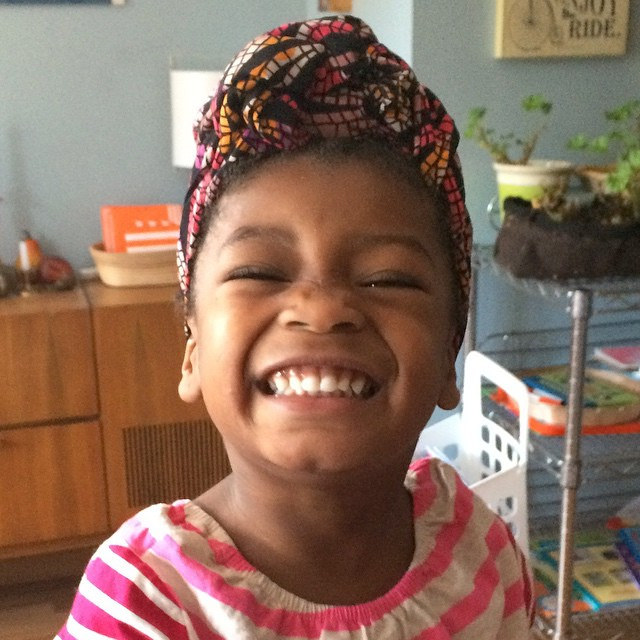 For an added cuteness to the look, try playing with a top bow angled at the top of your head. To do this, just wrap a thin scarf with the center of it at the base of your head near your neck and bring up the ends at the top of your head. Knot it and tie it into the bow at the top of your head. For a bit of sassiness and style, tweak and adjust the band so that the bow sits on one side of the head.
There are other ways you can mix and match scarves with any hair updos. Scarves can go a long way in accentuating a boring old ponytail. Tie your hair high or low in a ponytail and it can still work with a beautiful and colorful scarf, adding visual layers and a pop of style to your hair. This can also work with braided hair, either being a thin scarf being woven through the hair as it is braided or as an accent wrap when the braid is done. And lastly, you can definitely make a scarf into a head turban, just place the scarf behind your head and make sure that everything is equal, then bring it to the front and crisscross both ends of the scarf, making it flat and wide if you want. Crisscross it again in front and create a knot then wrap it around to the back and tie it into a knot.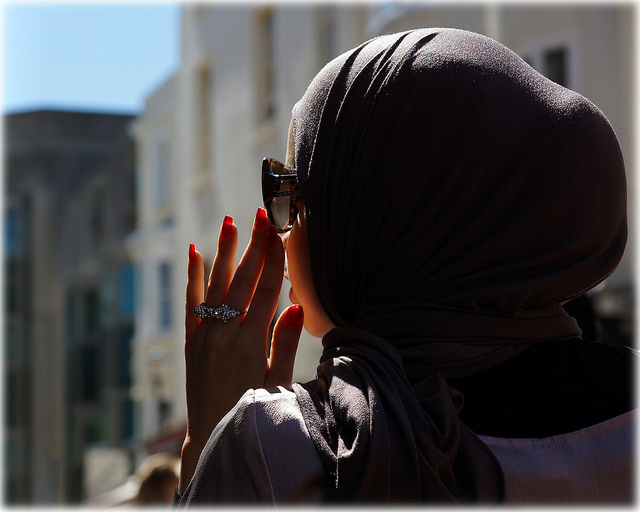 Whatever the style or season (it doesn't need to be winter to use a scarf!), we definitely now know that we'll be including a scarf in our wardrobe and accessory cabinet! With its versatility, color and style, it's definitely a mainstay across the ages.