She could easily be described as the first lady of fashion because of her endless, seemingly effortless and flawless style choices but Michelle Obama is much more than that. Michelle Obama caught the attention of every one today when she gave the final commencement address to graduates of City College in New York.    She took the occasion to call out certain types of persons,  although not by name,  "Leaders who demonize and dehumanize entire groups of people often do so because they have nothing else to offer".  We applaud her mightily for doing this.  Of course we all know she was referring to Donald Trump, and although we strive to remain unpolitical here at BHS,  sometimes the situation gets so bad that it requires all people of good conscious to speak up.  If not then  that old saying which ends with you be the last person they come for comes true.
Yes Michelle is a dotting fashion enthusiast right from the moment she came into the limelight, and she has not failed to impress years down the line. One of the aspects about Mrs. Obama's sense of style that is always talked about is her ever changing hairstyle choices. Johnny Wright, Soft Sheen-Carson's artistic style director and the first lady's hairstylist, likens the hair to the perfect accessory that is paired with the right outfit. With this in mind, it is easy to see how the first lady is always looking good from head to toe, and a lot of inspiration can be borrowed from Michelle Obama's hairstyle choices.
Sleek Bob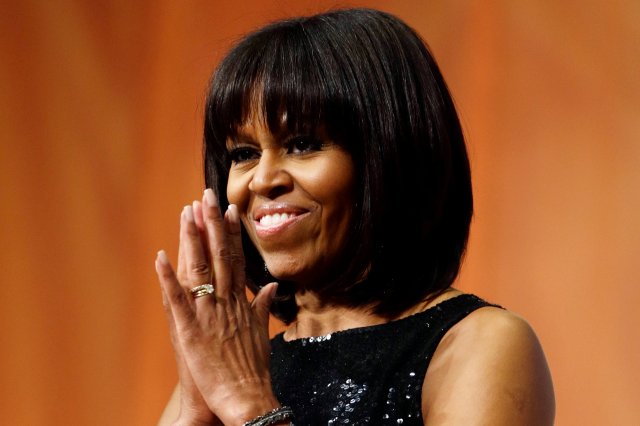 The first lady always donned a sleek bob which became her signature hairstyle when the world was introduced to her. The shoulder-length bob the first lady had on was a simple yet elegant style choice, which went hand in hand with her professional life as a lawyer during her pre-White House years. However, she her styling choice for the 2009 inaugural ball was much talked about when she switched things up a little with a more voluminous look that paired well with her gorgeous white flowing gown.
Sweeping Style
Mrs. Obama embraced diverse styling choices for her signature bob by incorporating more voluminous, curly and versatile styling choices. As seen through her choice for the Governor's ball in 2010 when she chose a full voluminous, deep side-part style paired with her chic black gown.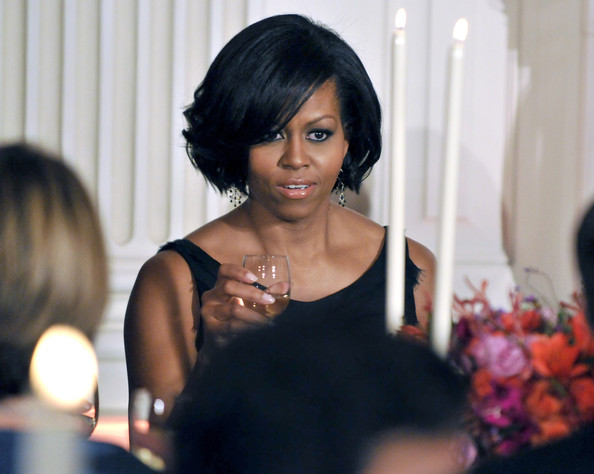 Again during the White House Correspondents Associate Dinner in 2012 she shook things up by adding more volume and curls to her bob for a befitting sophisticated hairdo.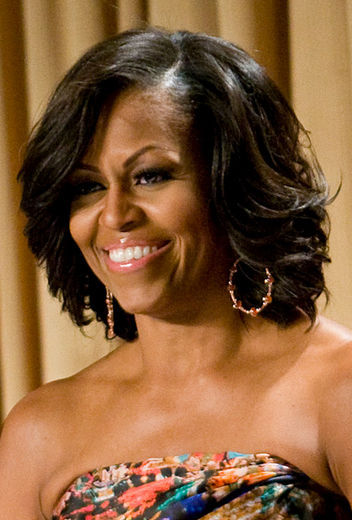 Up-Dos
On several occasion Michelle Obama has chosen updo styles including when she attended the BET Honors, made an appearance at a Walgreens store to promote her 'Let's Move Campaign' and when she was volunteering during the MLK Day.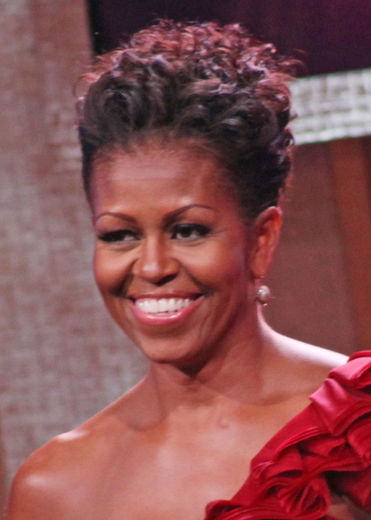 Regardless of whether she is attending a black-tie or casual event, the updo styles she has spotted not only allow her striking facial features to stand out, but they also give her outfits that special pizzazz and edge.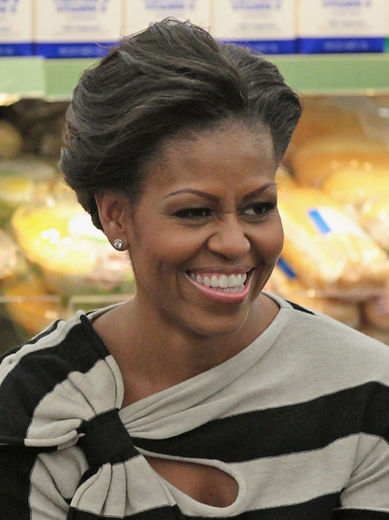 Flip Bang and Curls
The genesis of her hairstyles always sees her choose styles which complement the contours of her face and equally mirror the nature of the event she is attending. This couldn't be truer as seen through the playful flip she chose for last year's inauguration. Her signature bob and bangs were accompanied by effortless curls adding volume to her usual style to give it that festive appeal.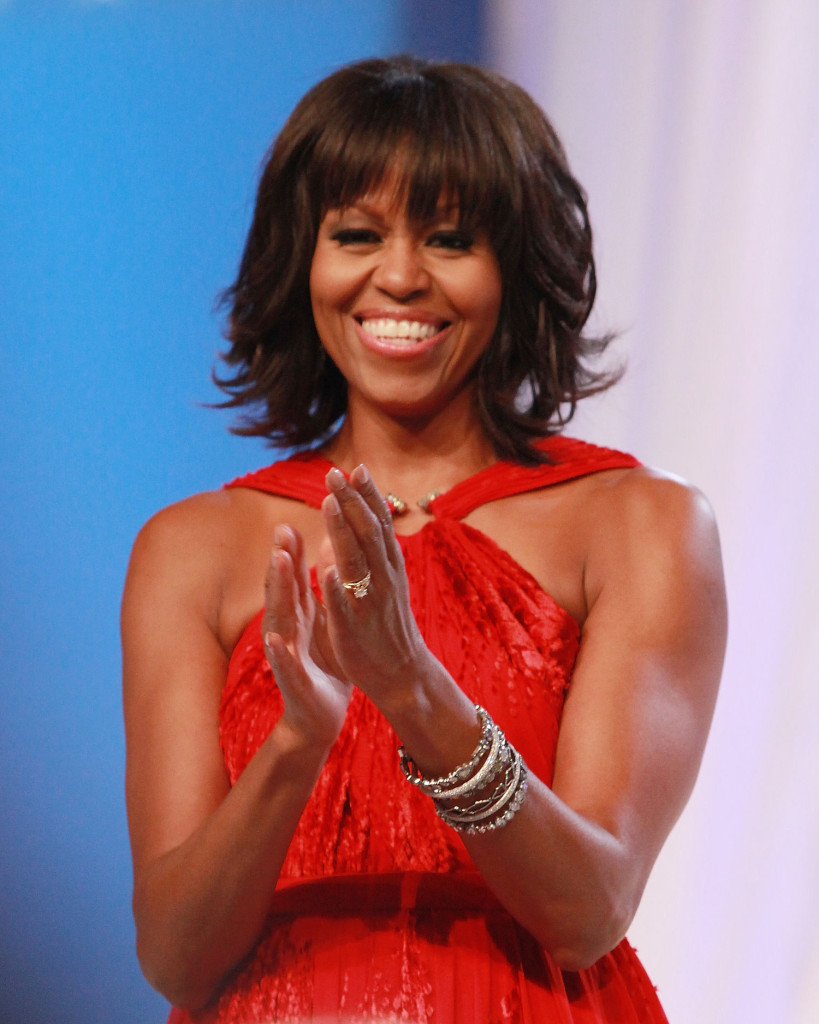 For a state dinner in honor of Mexican President Felipe Calderon and Margarita Zavala, his wife, the first lady looked absolutely stunning in a vibrant flowing blue gown topped off with gorgeous curls.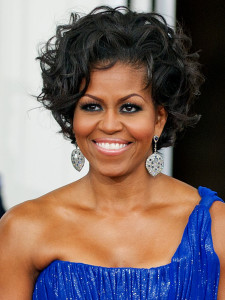 A tip from the first lady's hairstylist is not to focus on getting a perfect updo, saying that "the messier it is the better."
The Ponytail and Fake-Out Styling
Another signature hairstyle that the first lady always spots is the pulled-back ponytail. This is an easy styling choice, which gives the hair room to breathe particularly in-between hairstyles. Wright says that he always carries an assortment of colored elastics and a helpful tip is to always choose a band that matches with the color of the hair.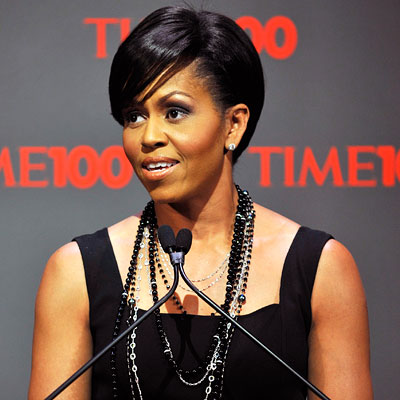 A face-framing style the first lady has spotted is the fake-out styling which has her hair pinned up at the back and the front falling naturally. It creates an illusion of a haircut and it is a perfect easy way to change up a signature style such as the bob the first lady has maintained over the years.
Helpful Styling Tips From Michelle Obama's Stylist
Having been the first lady's hair stylist since 2008, it goes without saying that Johnny Wright has a wealth of information about how the first lady manages to keep her hair always looking impeccable.
Wright advices the use of protective thermal sprays for those who use flat irons, curling irons and blow-outs on a daily basis. The protective guard provided keeps heat from permanently damaging the hair when it penetrates to the inner core.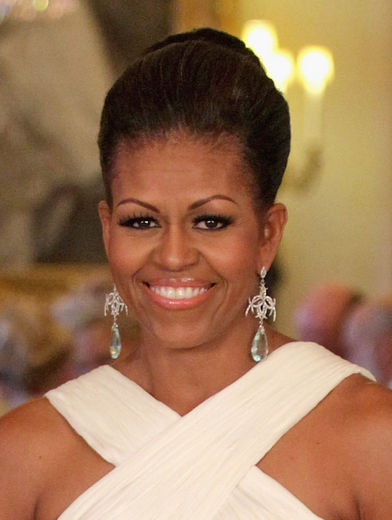 Let your hair rest and rejuvenate from excessive styling by opting for simpler style choice or foregoing heavy styling one or two days a week. He also encourages deep conditioning the hair frequently, which results in healthy and shiny hair. Conditioning nourishes and softens the hair, and Wright says that there is nothing such as "too much deep conditioning."